This video illustrates the need for surgeons to travel to underserved areas in the world that are overwhelmed with blindness and no eye care!
SEE International requires a certification on the Manual Small Incision Cataract Procedure (MSCIS). This procedure enables surgeons to do a high volume of cataract surgery with minimal equipment.
A key element with MSICS is making an incision that does not require a suture. A suture is a source of irritation which will lead to rubbing the eye and an infection.
It is very interesting that in 1990 I had developed a similar procedure that was featured on the cover of Ophthalmology Times.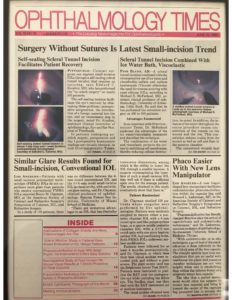 Give us your email address below and we will keep you updated on all new posts!