We woke up at 11 AM, which is 5 AM Florida time, our regular morning routine. Ed gets dressed for his morning run, quite a bit different from Florida, wearing his long warm running pants, gloves and cap. That's how Ed starts his day, an excellent energizing run along the banks of the Seine river.
After a quick breakfast, we are ready to start our day. Ed starts his day with an 8 AM phone consults with a patient who is quickly losing all his eyesight due to a rare disease affecting his optic nerves. He had been to all the big eye centers and he facing a corneal transplant. Ed reviews the patient's records and discusses treatment plans. Next up at 9:30 AM is our daily office call with our staff to go over the regular schedule and answer any questions they have. Then back to patients phone consults again. Today's schedule is full of phone consults, which Ed can do from Paris, just like he is in Florida even though we are now across the pond. This way, Ed will get used to the time change and be ready for his surgery work once he is on the ground in Liberia.
We got an email from the Liberia Mission organizer; we now know where we are going to stay in Monrovia. They coordinator flew to Monrovia two weeks before the Mission starts so he can check out all the accommodation and check out the facilities and logistics and make sure the doctors can begin their work once they arrive.
According to the World Health Organization, the prevalence of blindness in Liberia is estimated at 1% of the total population of 3.5 million or an estimated total of 35 000 blind people. Cataract is the primary cause of blindness in Liberia, with an estimated backlog of 17 500 people or 50% of the total blind population. An additionally 3% of the total population (100 500 people) suffers from a visual impairment.
Living conditions of the blind in Liberia is dire. They face numerous challenges; they do not have enough to survive so they often resort to begging and they do not know where their next meal will come from. They live in makeshift structures. The blind often uses children as an aid to moving around as they can not see, but this causes another problem as the child that is helping the blind adult is now pulled out of school.
Discrimination, marginalization, stigmatized, the blinds are often looked down upon. We hope that with our help in performing these surgeries to bring back sight to the blind in Liberia, with each recovered eyesight we are not only making life better for the one more blind adult but at the same time helping another child remain in school to further his or her education.
The afternoon in Paris finds Ed working with me to brush up on my ophthalmic surgical tech skills. At the clinic in Florida, we have enough staff to assist him. But when we get on the road and work on our humanitarian medical trips, I am his most trusted surgical tech. If we get to a site where they have an English speaking surgical tech, the tech would assist Ed, but often time we would be in a country where the nurse does not speak English at all so I have to be ready to step up and assist him at a moment's notice. Since I don't do this kind of work full time, we often have to go over the tools at least once before we get on the ground just to give me a refresher course. Today we go over scissors.
The Stevens scissors and the Westcott scissors…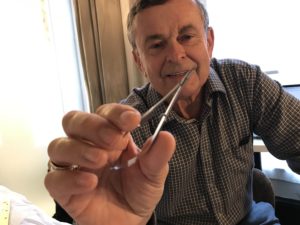 and what are these?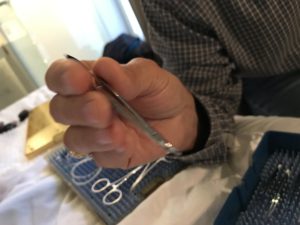 and what about these ones?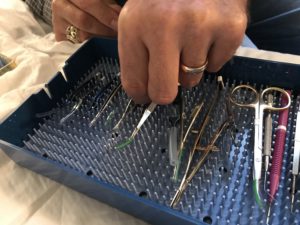 a whole tray of scissors to work on! Name all of them right i will get a gelato!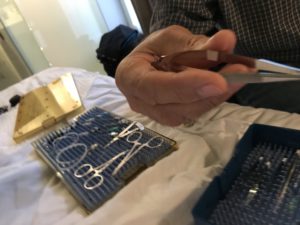 Oh no, there are more of them!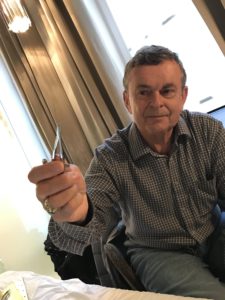 And the last ones here, what are these? These? Dear doctor, these remind me that it is time for dinner. I am hungry and all these scissors name are giving me a headache!
After the day's work is over, the hard-working surgeon (Dr. Ed) and his outstanding surgical tech (Miss Ly) go out to dinner. Nothing like a fresh and delicious Parisian salad to end the day.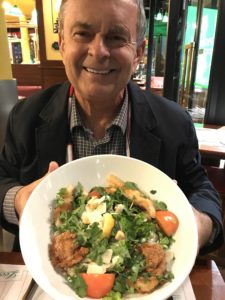 Give us your email address below and we will keep you updated on all new posts!