Feb 20, 2018 – Tuesday. Another nice and beautiful day in Paris. We are hoping by now that we would be on Parisian time but no such luck. Ed sill wakes up pretty late, staying still on Florida time. Today Ed decides not to run by himself but he wants to get me up and take a long walk with him to the banks of the Seine.

Paris in February is quite different than Paris in the Spring, or Summer or Fall time. But in all honesty, Paris any time of the year is still my favorite city to visit. I speak the language fluently, I used to spend endless summer months here with the children, New year Eve on the Champs Elysees with a bottle of champagne, skiing in the French Alps so France is always almost like home.
We follow the Rue de Seine to the left bank of the River, walking by the famous Musee d'Orsay, one of my favorite place to visit while in Paris. The Musee D'Orsay is located in the former Orsay train station and refitted as a museum by President Valery Giscard d'Estaing and is now one of the largest museums in Europe, housing the largest collection of Impressionist and Post-Impressionist paintings in the world.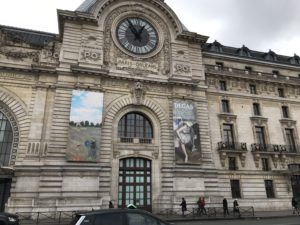 Today's feature is the famous Degas dancers painting exposition that is soon coming to an end by February 25.
By the time we walk by the entrance, a mob of people is waiting in line to get in.