The last rest day in Paris.
It is cold this morning. Very very cold. When Ed comes in from his run, his hands are like two blocks of ice. He tells the clerk at the front desk there is "un froid royal extraordinaire" (a cold royal and extraordinary) and she laughs really hard. The French like to put the word "royal" to describe anything extra large, big or huge.
We decide to go check out a restaurant owned by an American from Charleston, highly recommended by our son Lawrence who has called Paris his second home. He comes here any chance he gets and likes to rummage around and find unusual things and places. We have a good time. Finding Southern comfort food right in the heart of Paris is certainly noteworthy. The restaurant is hard to find as it is situated in a courtyard through two large old antique doors.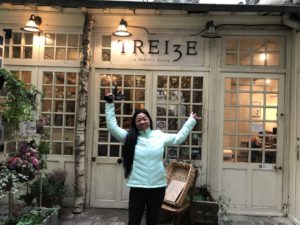 We both have a Southern Comfort food plater. It is a delicious and generous serving of southern food like at home though certainly with a Parisian twist that is hard to describe. We definitely give this place all four thumbs up. A fun and surprisingly pleasant outing where one can meet lots of American expats as well as French locals mixing up for a good and hearty meal.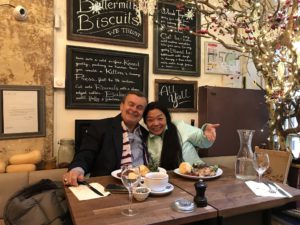 Back to our room, as usual, our day begins. Dr. Kondrot straps on his headset for a day full of consults. One of his patient on a consult today is the owner of a soccer team and Ed found himself with an invitation to go to Russia for one of the world cup soccer game this summer. How exciting! We will try to squeeze that in between our mission to El Salvador and Ethiopia. If time permits.
I review the correspondence regarding our upcoming trip to Monrovia.
First of all, a couple of new requests from the hospital in Monrovia for a few urgent cases that need Dr. Kondrot's attention.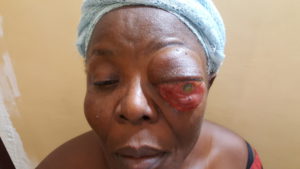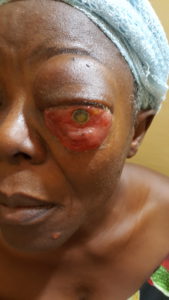 Then we need to firm up the next eye surgery expedition to India. The dates are set now for April 18, 2018, to April 30, 2018. The flight over to Kolkata appears to be another challenge as American Airlines does not fly into Kolkata either!  It will be another convoluted and long trip three planes change to either New Delhi or Mumbai, by way of London, plus an overnight stay and then the next day catching a local domestic flight from there to Kolkata. Nothing is simple with these missions. Why can't it be just a simple direct two hours flight somewhere for a change? I guess if it is simple, we would not be involved. Ed always has a knack for dragging me into the complicated situation because he wants to keep me busy and keep my brain sharp. That's his way of keeping me on top of my problem-solving game.
After his workday, Dr. Kondrot reviews as promised the last set of surgical tools with his favorite surgery tech. Cannulas and hooks!
The Simcoe cannula
The olive Cannula
The J cannula
The irrigating cannula
The irrigating vectis cannula
The cystotome cannula
The dual action iris spatula
The hemostat
And now on to hooks!
The muscle hook
The lens loop hook
The Sinskey hook
And a surgeon never forgets his caliper!
Et Voila! This complete the review of the surgical tools for the Doctor's favorite surgical tech. There is no better joy to the surgeon than a surgical tech that can read him, anticipates what his needs are, hand him the tool even before he has to ask for it and above all, hand him the tool the way he wants it put right into his hand ready for him to use so his eyes can stay fixated on the same place he is working on and not have to leave his microscope.
And then there are the sutures, left back suture, right forward suture, suture that is cut to a perfect length to the surgeon's liking, which happens only once in a blue moon. With the eternal complaints of the suture being too long or too short, this poor surgeon has to deal with his sarcastic "most of the time" surgeon's wife and "once in a while" surgical tech's bad attitude: "So Doctor, do you want a too long or too short suture this time?". And this question never fails to bring a smile to his face even during the tensest moment in the operating room.
We ended the day with a celebratory dinner at the very popular entrecote restaurant in the heart of Saint Germain in the Latin Quarter. We head out early to beat the crowd. By the time we finish our early dinner, the line has snaked around the block in the bitterly cold night of Paris.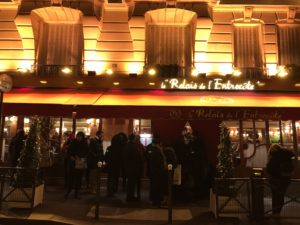 Oh, I almost forgot to mention, I was rewarded for passing all my surgical tool quiz with flying color so I got to order us some dessert tonight. Everything on the menu looks so delicious, it was a very hard decision. I finally settled for a baba au rhum, cold, fresh and imbibed in an intense rum flavor and my all time favorite "chocolat liegeois", same as "cafe liegeois" but in chocolate instead as we don't do very well with coffee late at night.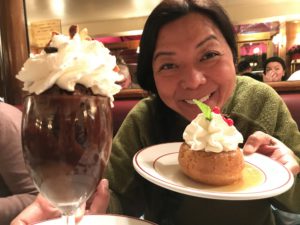 We walked off all the calories by taking a longer scenic route back to our hotel, through the alleyways, playing Parisian lovers, holding each other's hand, trying to keep ourselves warm in the bitter cold February night in Paris.
Tomorrow we head out to Africa. Monrovia, Liberia. It is another world over there for sure. Until then, bonne nuit! Good night, from Paris with love.
Give us your email address below and we will keep you updated on all new posts!