We wake up early this morning, well adjusted to local time. Ed is fighting a  hacking cough all night. He head down for a Liberian breakfast comprised of two kinds of yuca, white and orange. Yuca is a root often grown in tropical countries, eaten like we eat potatoes in America. Breakfast also comes with a serving of fish stir-fried with cabbage. I opt to sleep in again, trying to get some more rest as I am also fighting the same cold Ed is having.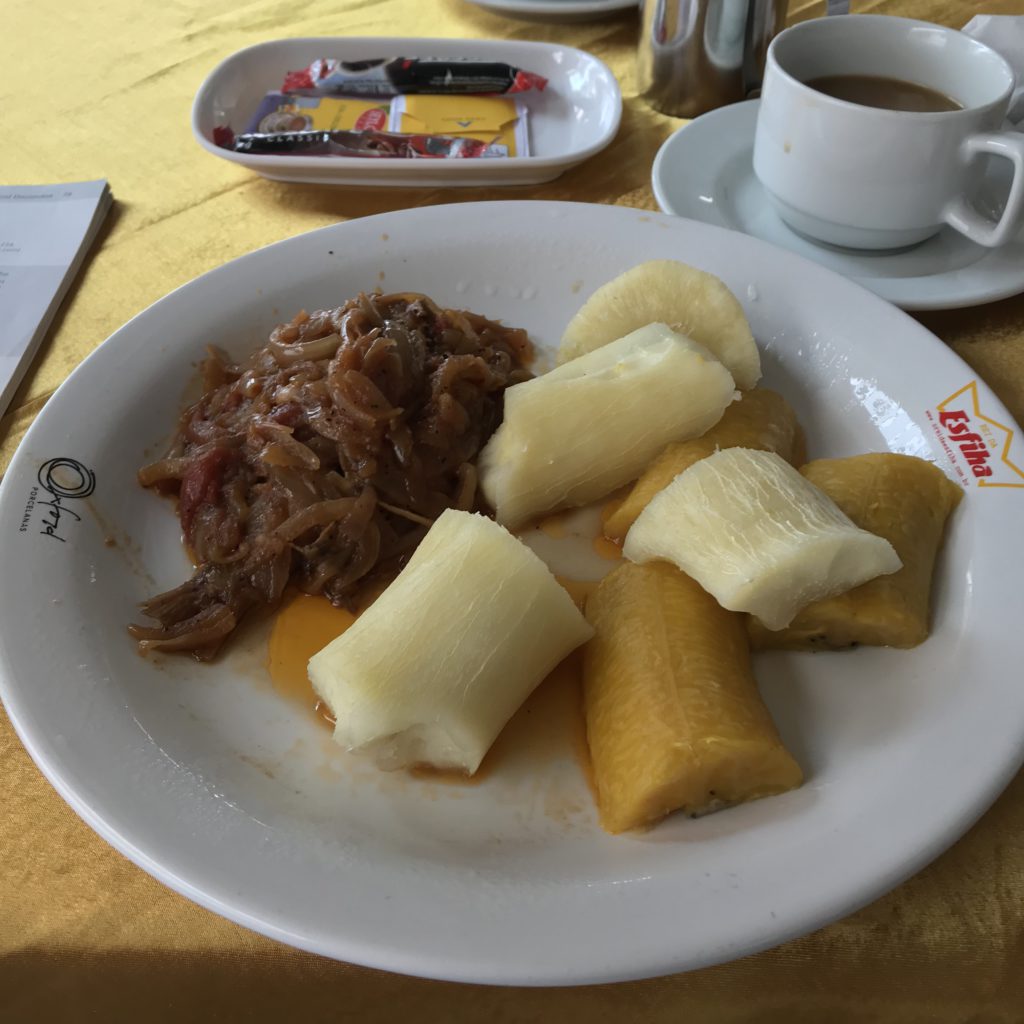 10 AM: we have not heard anything from Joe yet about the arrival of the rest of team coming from America. I start to get worried and call Joe on his local cell phone.
"We have to move you. The hotel you are staying did not have enough room for all of us. We are coming over to get you now. The team arrived last night and we are all check in to the new hotel over here. You two are the only two still at the A'la lagune."
We are told that the plane landed at 8:30 PM yesterday night but due to the fifty check-in bags of medicine and equipment, it took a long time to clear custom. Then Joe's car broke down. Then the two bus that came out to the airport to pick up the team, the light does not work so they can not really see to drive in the dark. They have to go very slow and once in a while, they have to wait for an oncoming car going the opposite way to give them some visibility. That is such a wild story. We are glad we decided to stay back in our room and get some rest instead of going to the airport to meet the arriving team members.
So we pack up everything and we are being moved to another hotel. We move over to the Palm Springs Resort which is just right across the street from the A'la lagune hotel. To our pleasant surprise, it is a much nicer and much more comfortable hotel than  A'la lagune.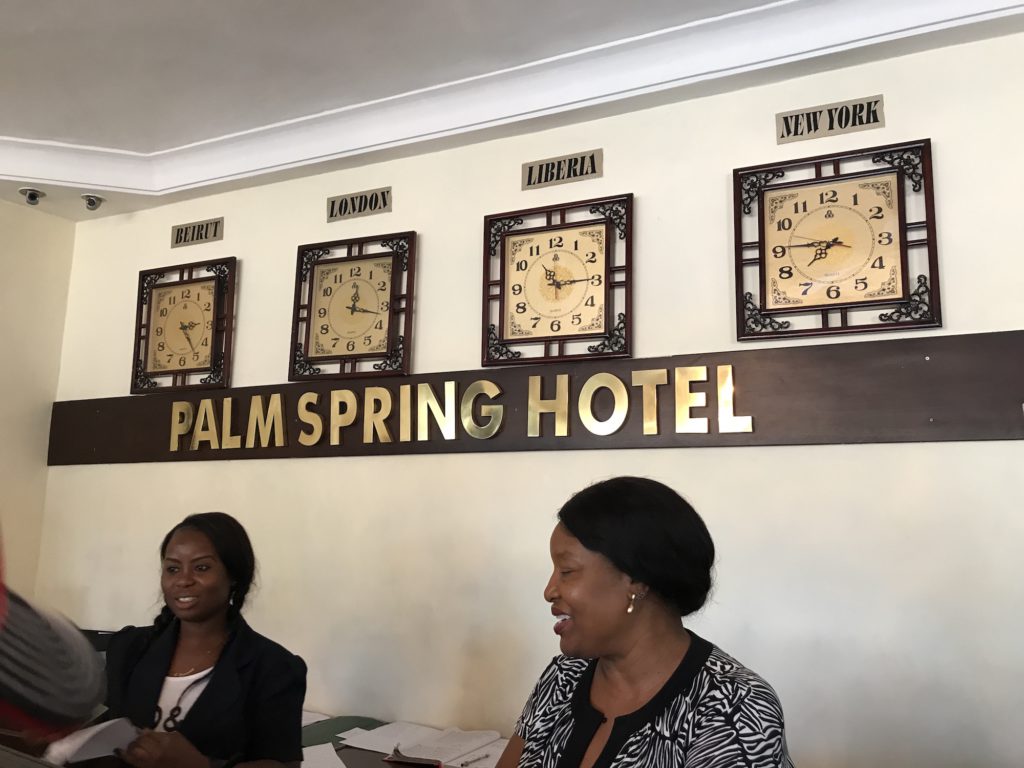 The first sight as we enter the lobby is the flats of bottled water. Yes, we need them everywhere we go, we have to stay hydrated.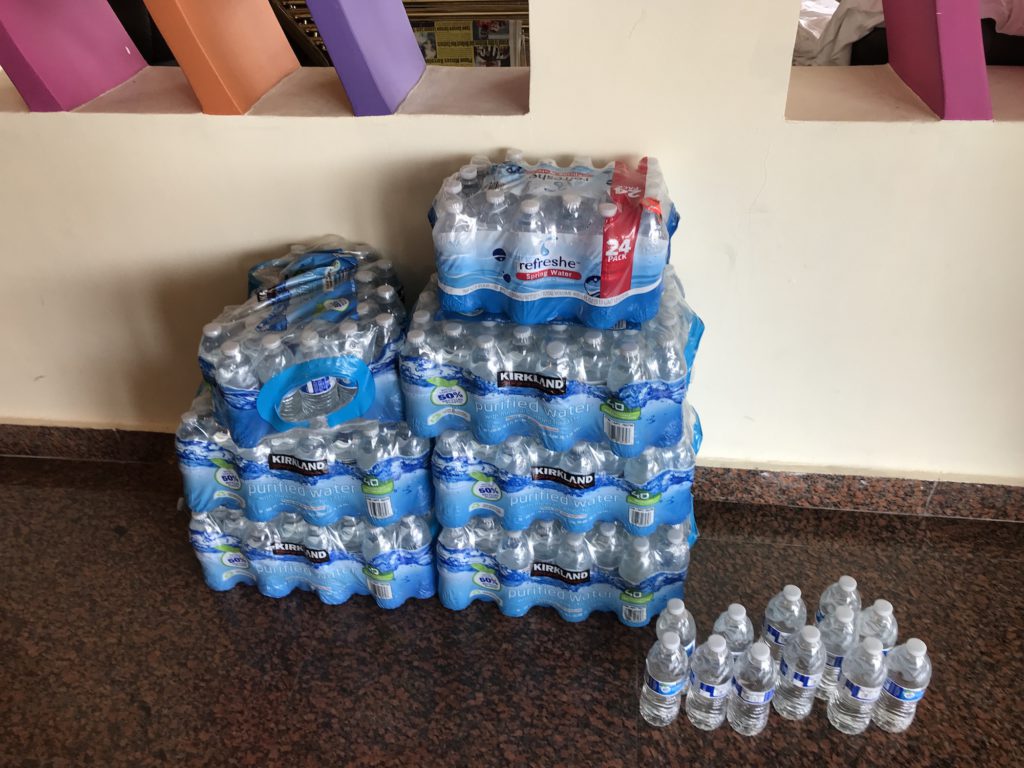 The room is so much nicer and the view out the window is not a mystery anymore. Just a standard hotel room view, we get a much nicer bed in an overall more comfortable setting.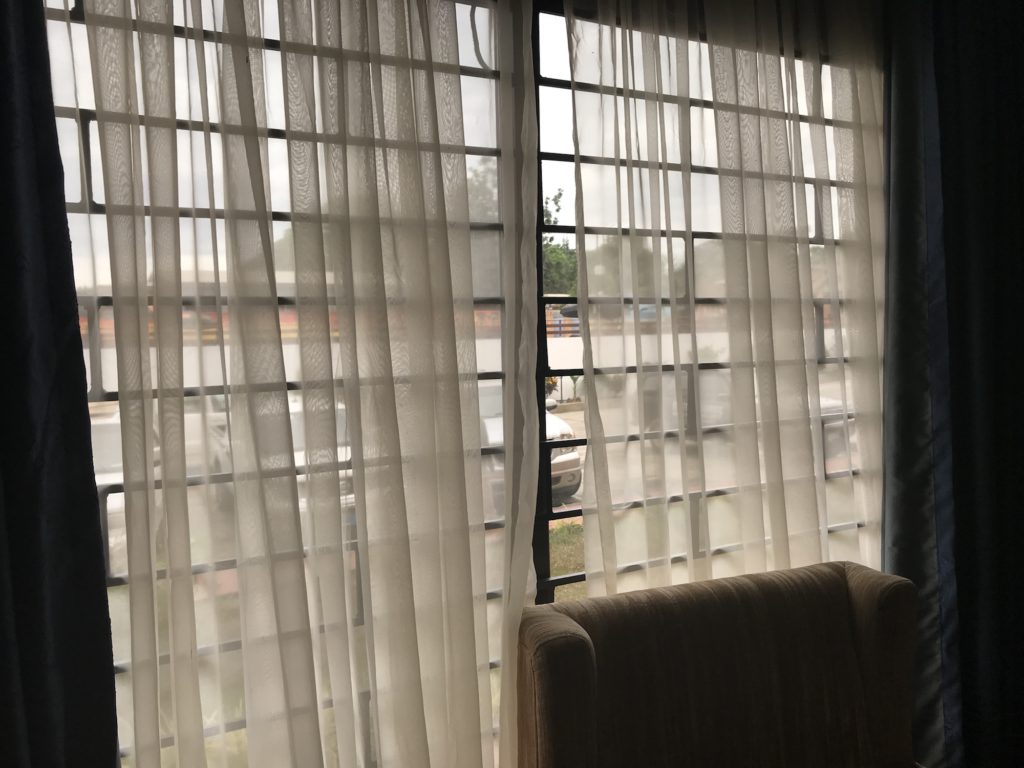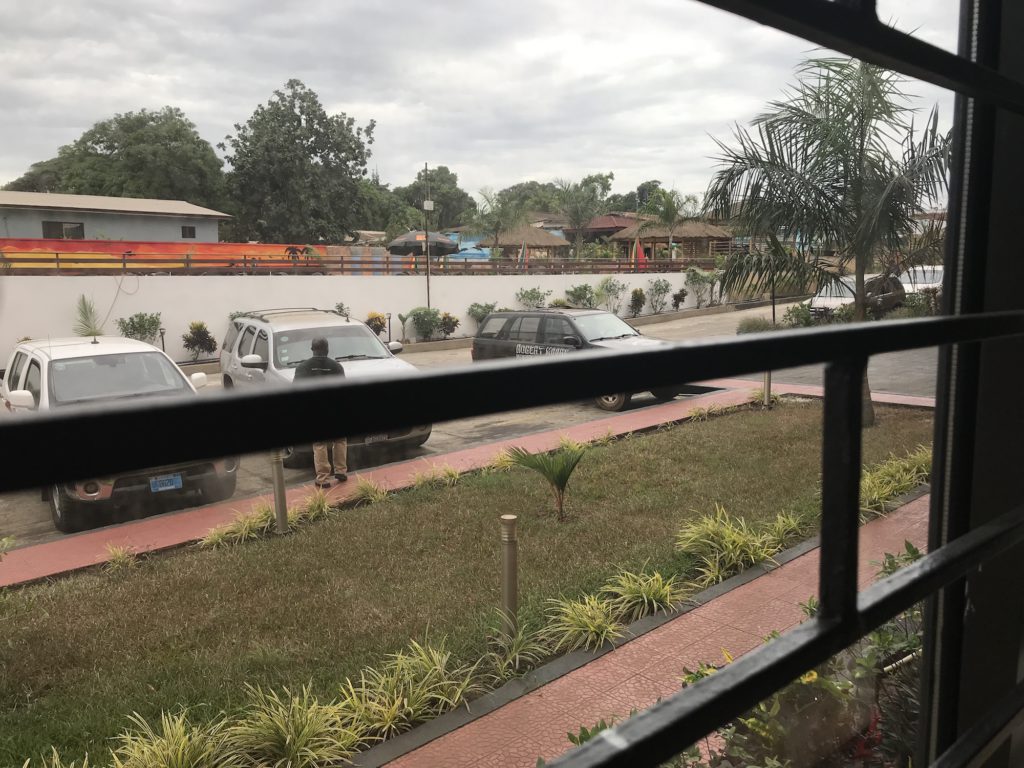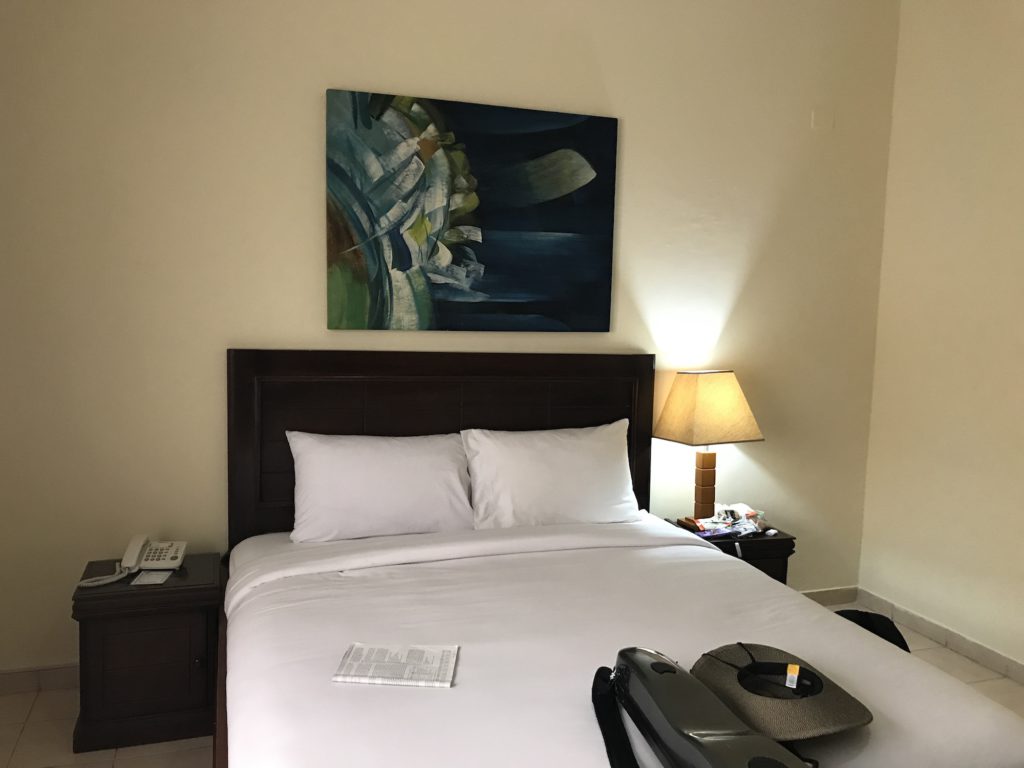 Even Dr. Ed has a small table where he can check his email!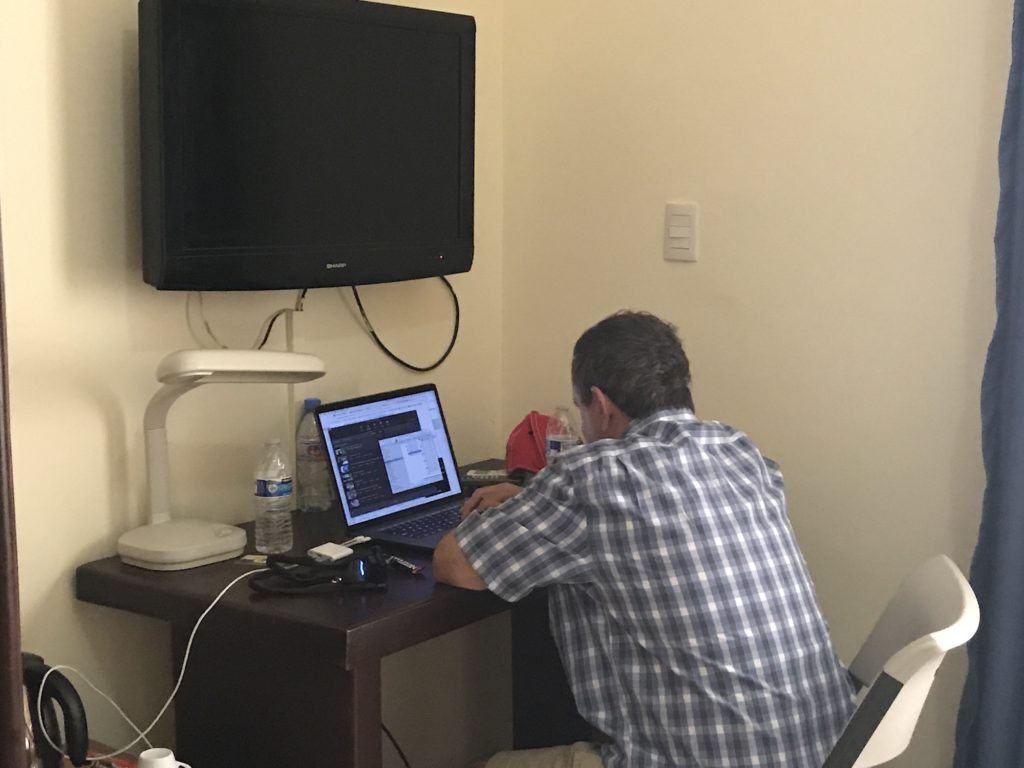 A quick check of the bathroom shows that we now have two large bath towels. I forget to mention when we were in the other hotel, they only gave us one set of towels meaning we have one washcloth and one large bath towel. Ed tried to ask for two bath towels as we are two adults in the room and was told that we can only have one set of towels per room. We find it a bit strange but we respect their policy. I was thinking next trip we will bring our own towel. But in this hotel, towels are no longer a problem.
We unpack and settle ourselves into the deluxe room and soon we are called out to the lobby for a team meeting. We first get our team T-shirts and our badges.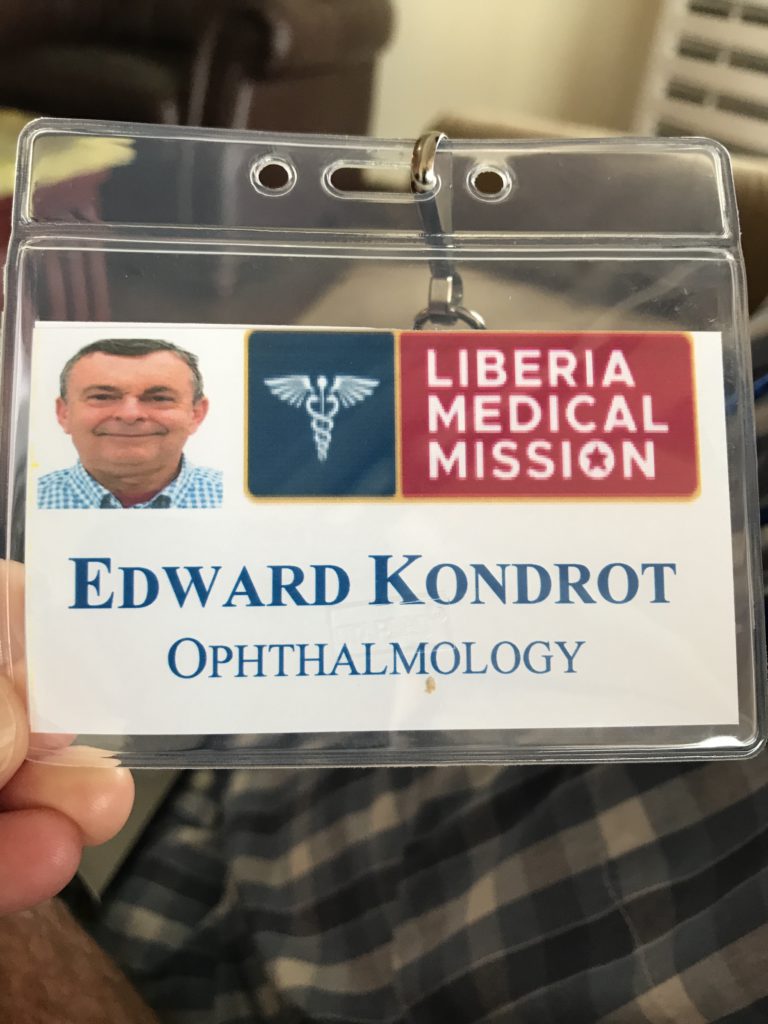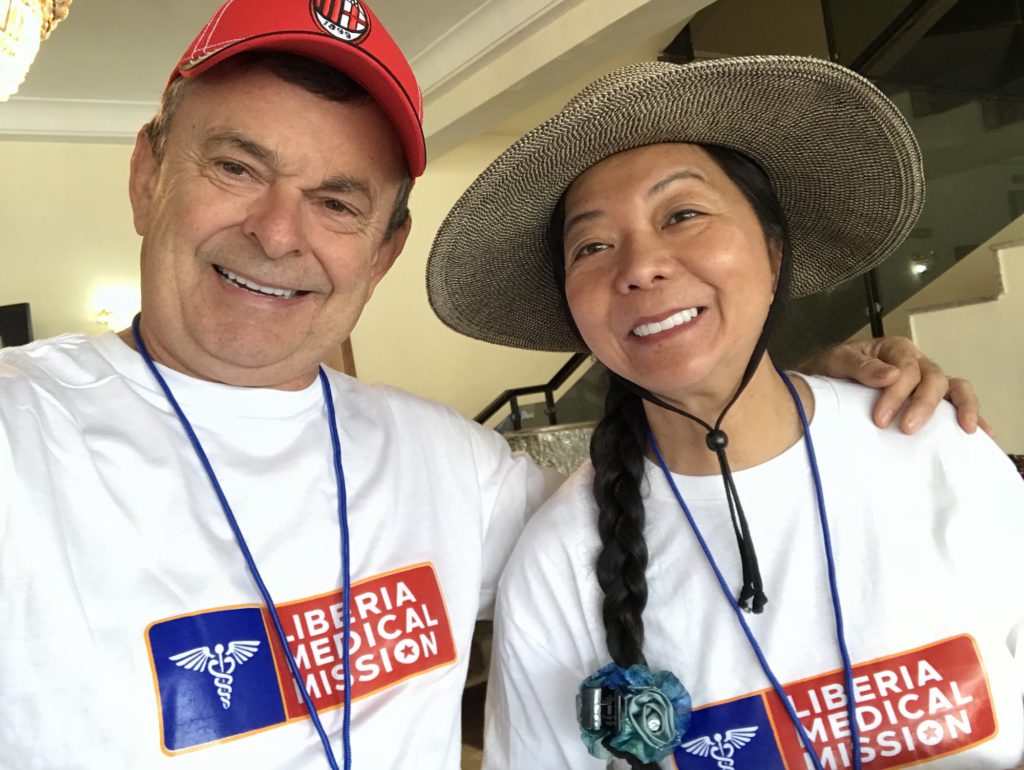 A nice picture with Dr. Major from Philadelphia who is an optometrist and will be helping us screen the patients before eye surgery.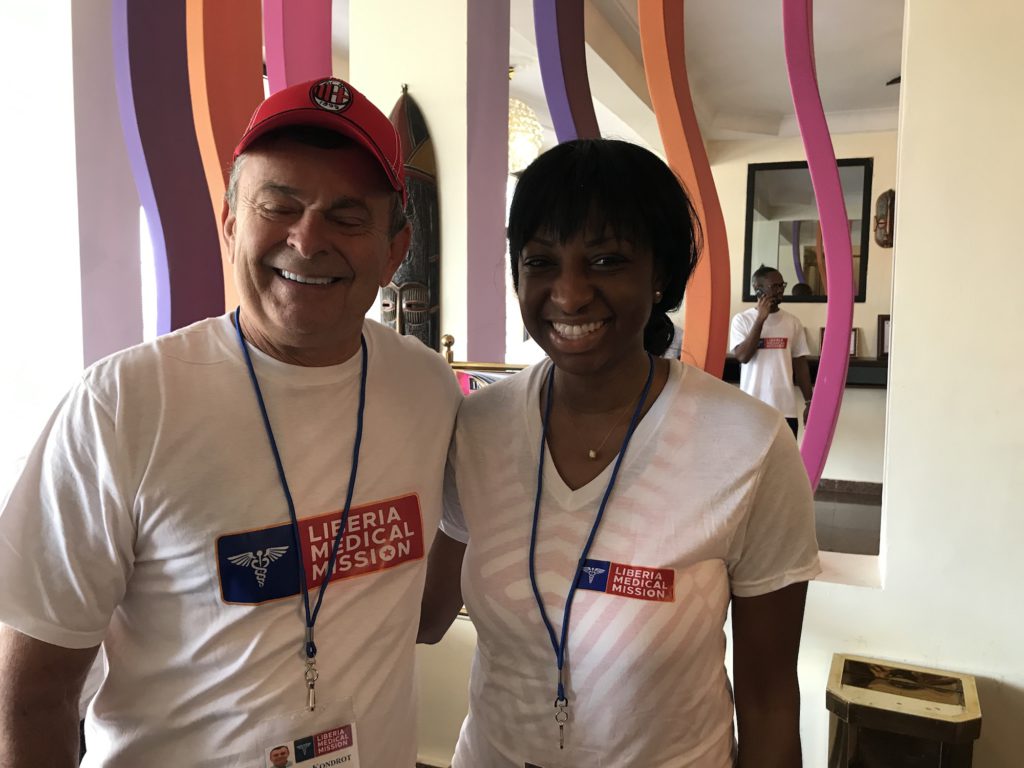 Then our team leader Roberta gives us a quick briefing about our stay here at the hotel: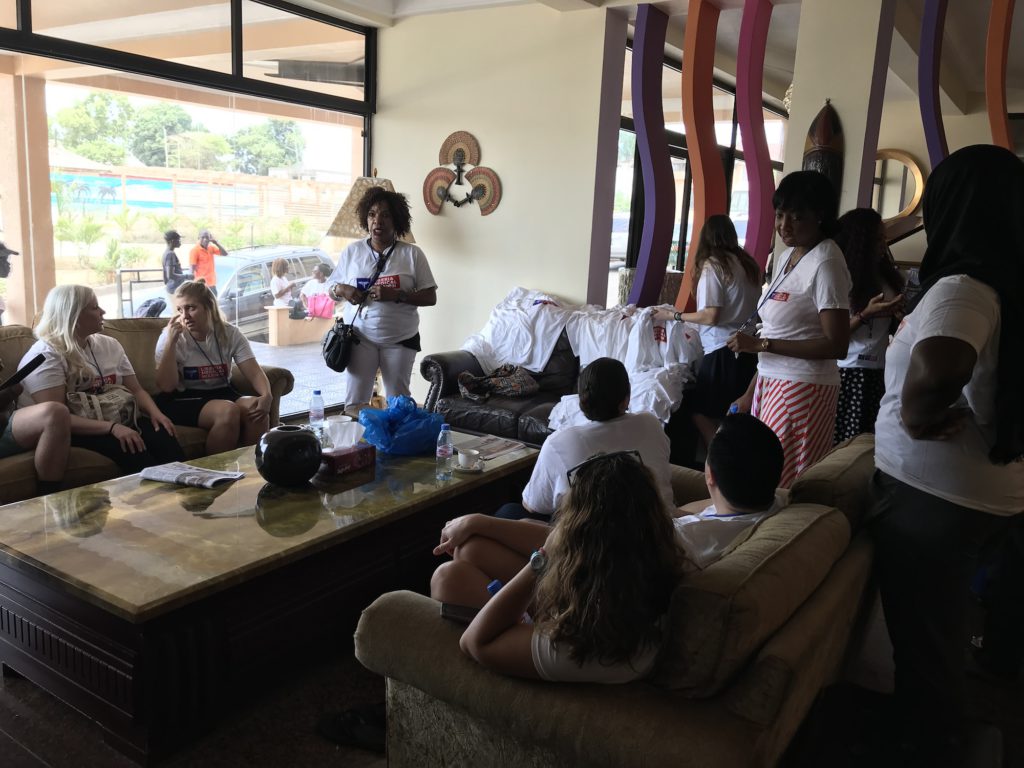 The main points to remember for our stay:
The hotel will prepare a special breakfast for the team. For dinner, we can vote for chicken, fish etc and they will cook the same dinner for the whole team.
The rooms will not be cleaned every day.
Breakfast ends at 10 AM.
The restaurant closes at 10 PM.
They will supply us with breakfast and dinner free of charge, just show them the team badge.
We are now waiting for the TV crew to come and a press interview for the whole team. There are about forty team members, including a photographer, a videographer, an optometrist, an ER doctor from Atlanta,  a few logistic coordinators, a few nurses and more support people all gathered in the front hotel lobby waiting for the TV crew.
They are here! The press and the National TV crew! We all gather together around and get photo ops and be on Liberia National TV!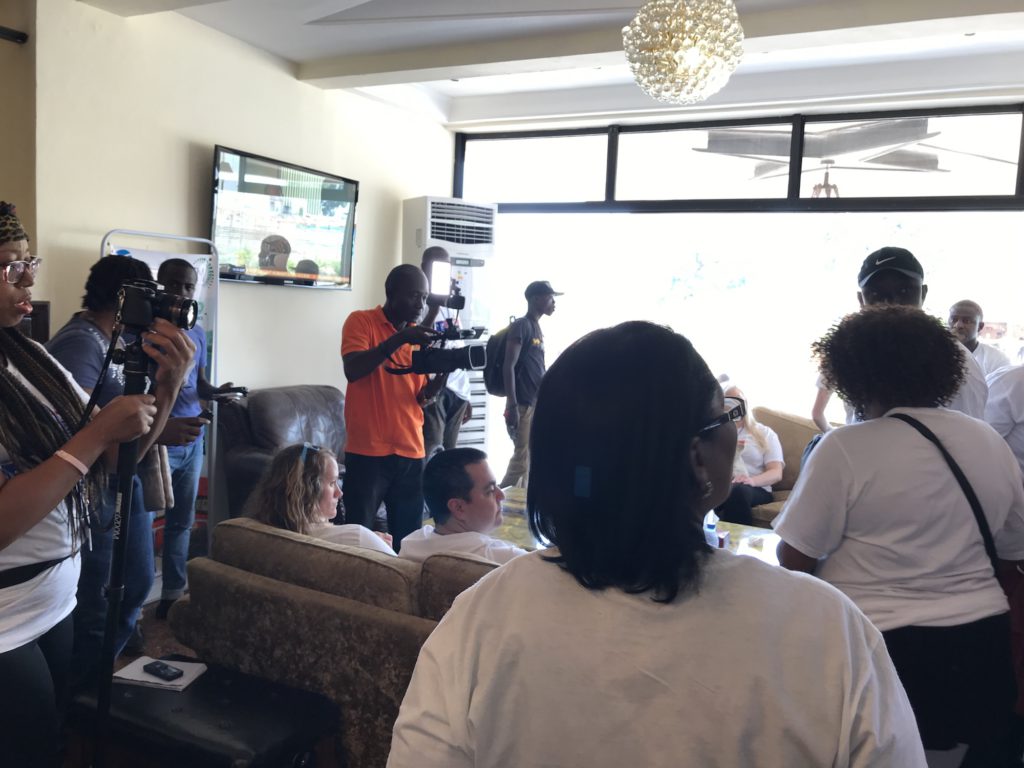 And here is Dr. Kondrot delivering his speech on Liberia National TV!
After the press interview and national TV event, we are now gathered in front of the hotel for a team picture. Always a fun event if not chaotic opportunity to get everybody lined up to be in the picture together.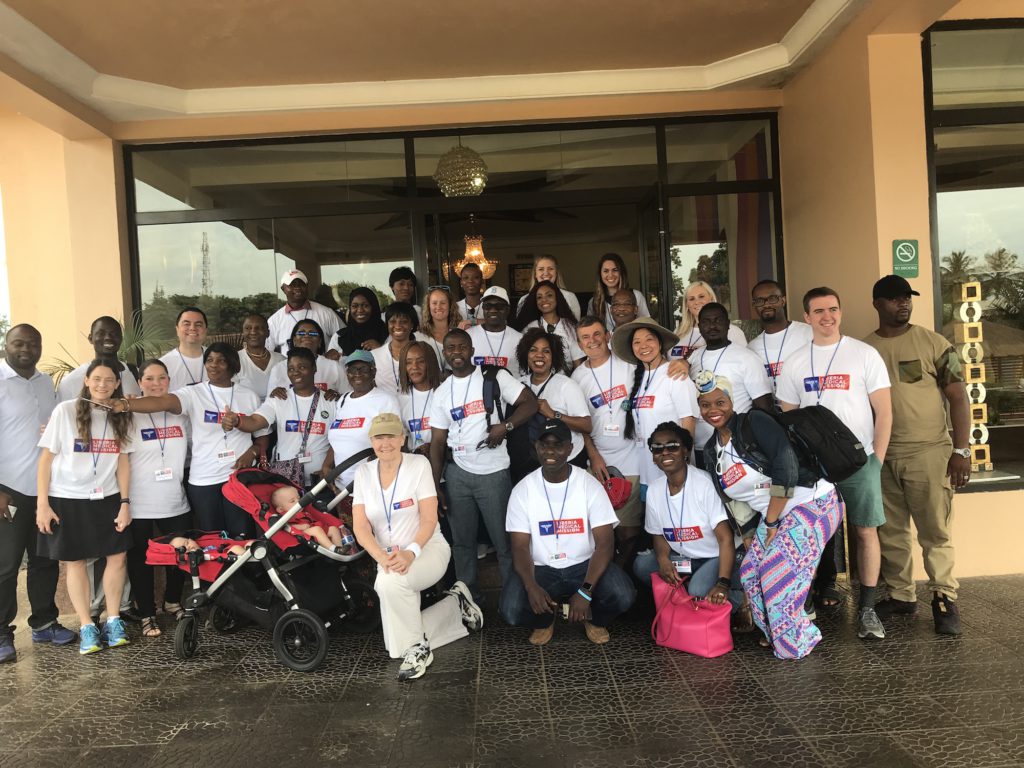 Part of the team is a pediatrician who is there with her twins of fourteen months old!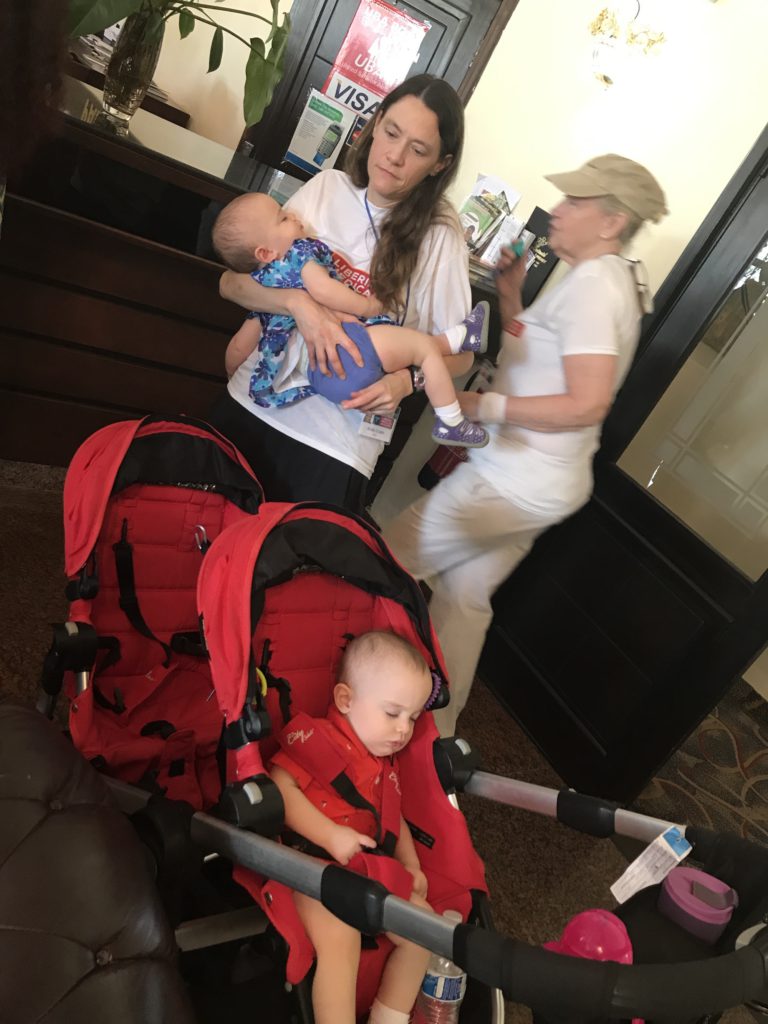 After the photo ops, we are offered a tour of the city but unfortunately, the key is locked inside the car! While we have the locked key situation sorted out, it is also lunch time. So we all move to the hotel restaurant for a team lunch. We move the table together so the team can all sit together. Choices are simple, fish, chicken or burger sandwich with fries and coleslaw.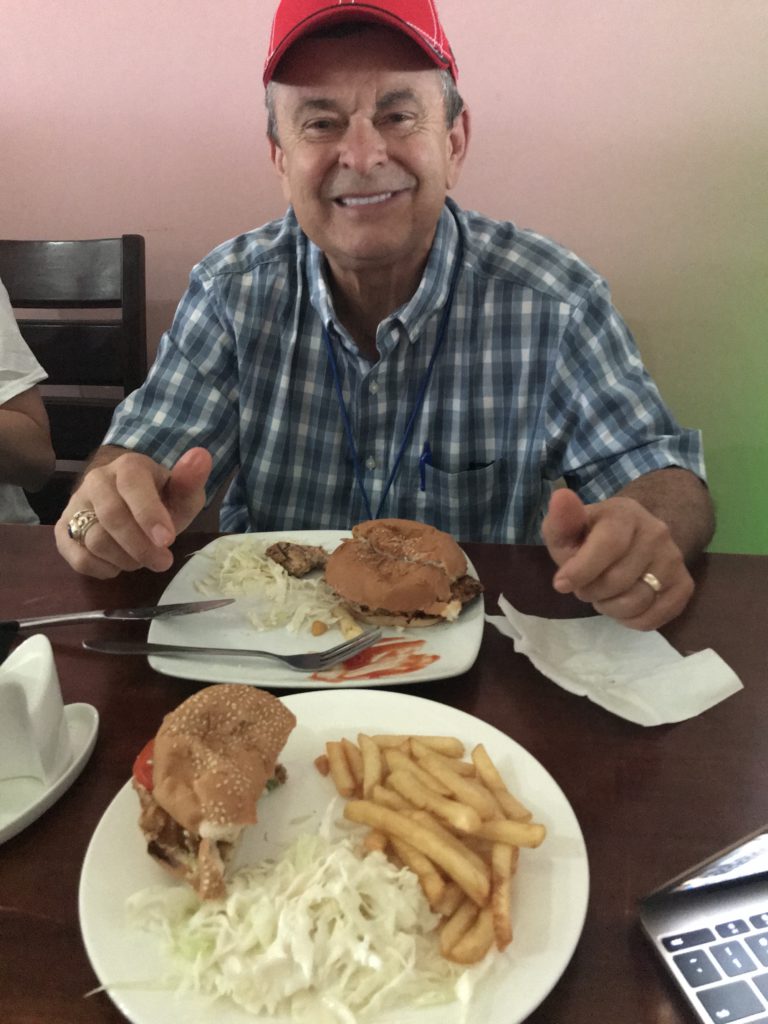 The team lunch is fun and we sit next to two young nurses from the CHOP. Children's Hospital Of Philadelphia.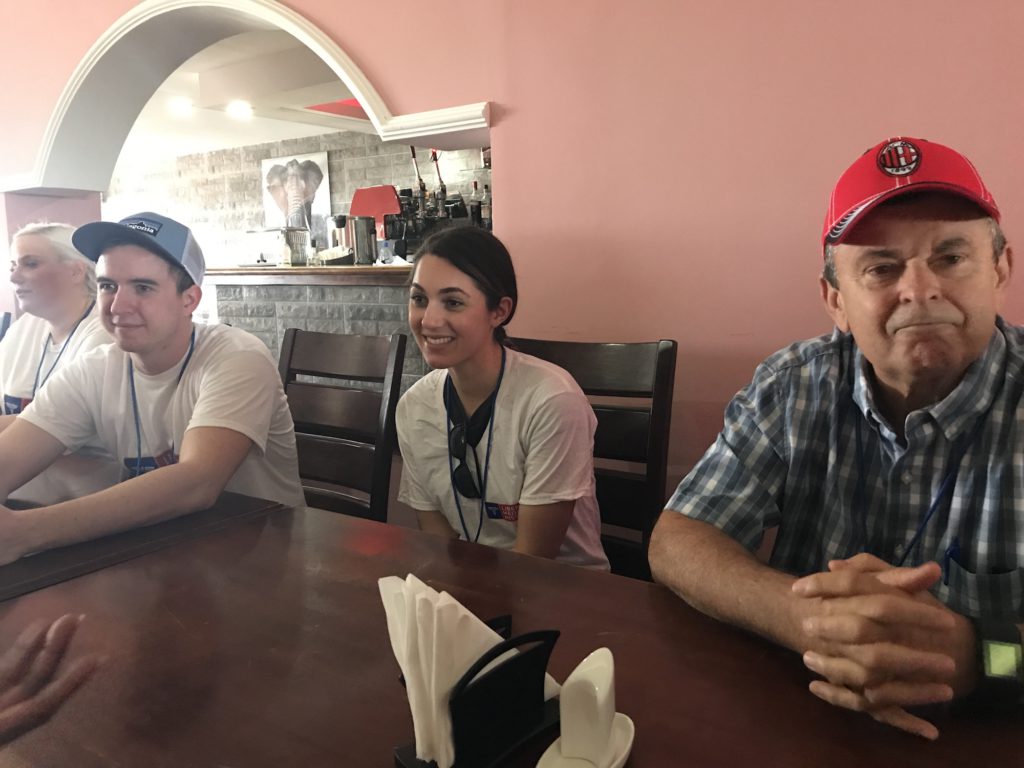 We all had a good time, from the youngest team members to all the adults.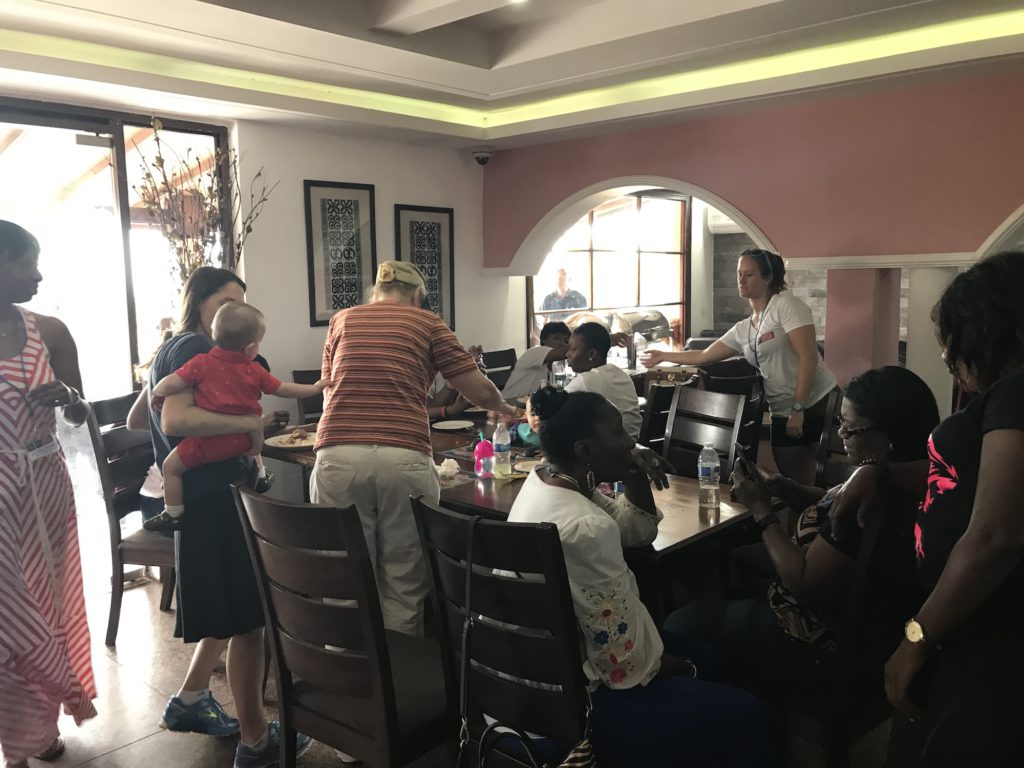 After lunch, we have to go check out the surgery center to look at the settings that they have. We also have to open up the boxes of eye drops and medicine and lens that the team members had carried over for us in their check-in luggage.
Tomorrow is a meeting day with briefing with the ministry of health regarding the state of Liberia healthcare and see what we can do to work together to bring down the number of people affected with vision loss.
Give us your email address below and we will keep you updated on all new posts!