Today is our last day here in Liberia. I must admit I am walking around the waiting area and it seems like there are more people on the last day than on the first day! How could this be? We worked very hard every day from early morning to late night and people are still waiting in long line. Some has been waiting for days.
Words travel fast and as people hear that we are here to do eye surgery, they are coming from far away to get the care.
Take a look at the waiting area this morning and tell me if you agree with me.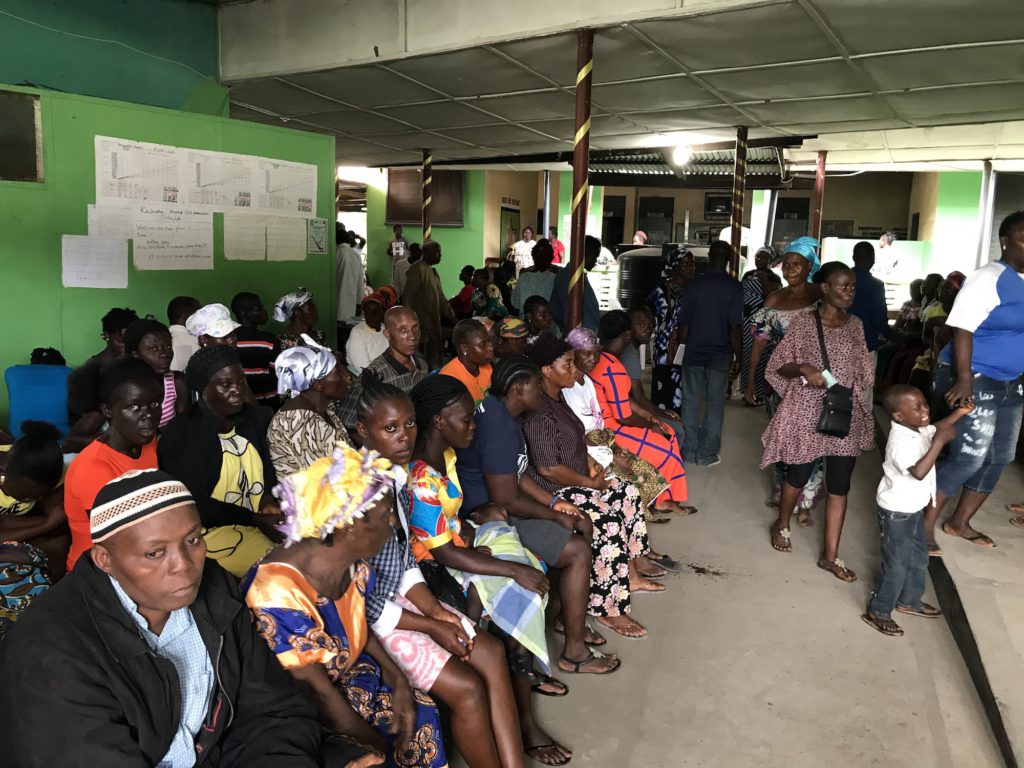 As always, we come in to do post-op before we start our day. The morning group of post-op patients gathers around the doctor.
Post-op check up begin. Everybody is doing well, excited and happy. No complication.
wow, look at the before picture of the pterygium patient. This is the before picture. Notice the white area where the growth is in the eye.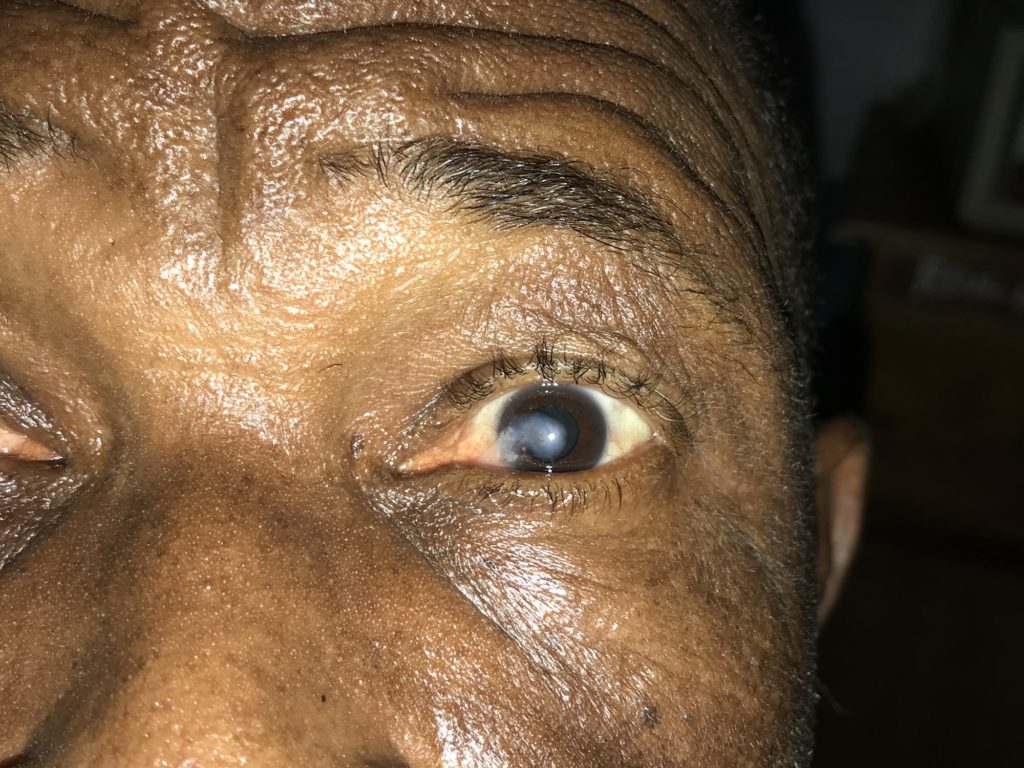 and the after picture. The white growth area is gone and looks how clean it is one-day post-op: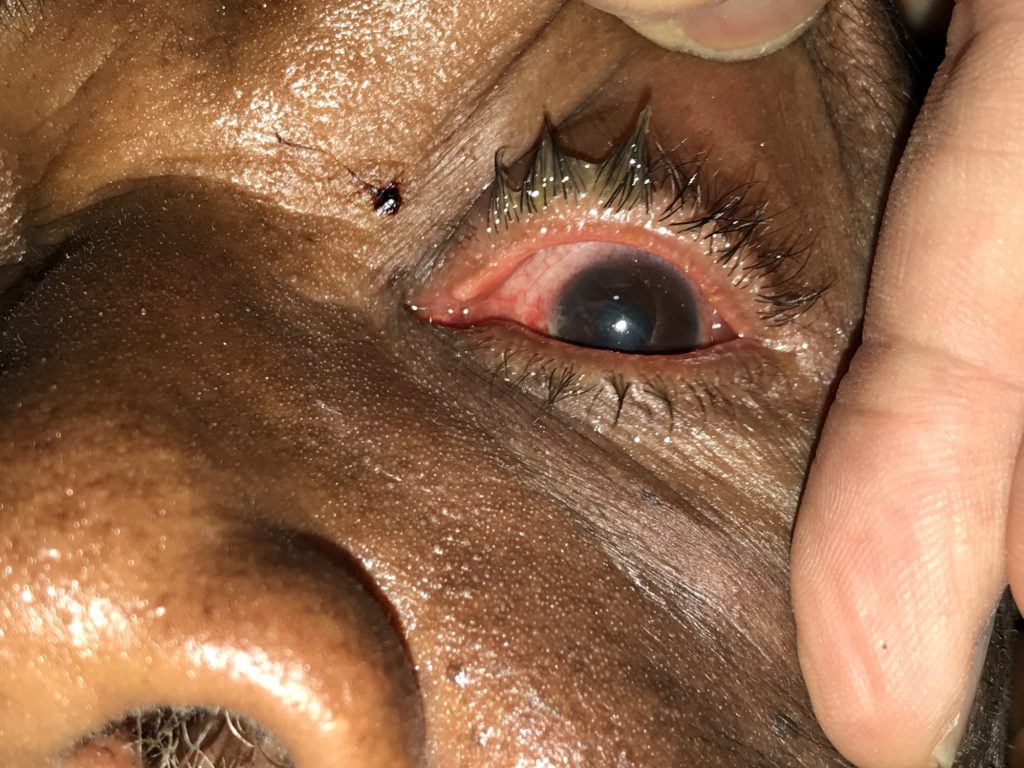 We check out our first patient ready for surgery today. Ah, a big white cataract to start the day!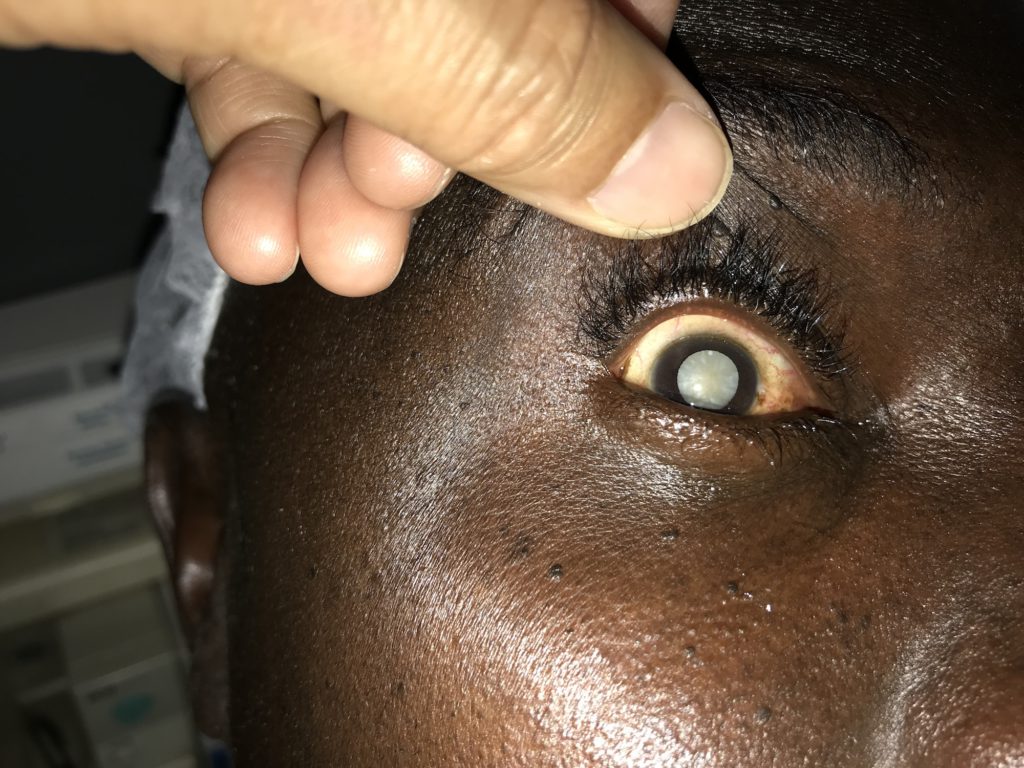 All went well.  Then one more white cataract!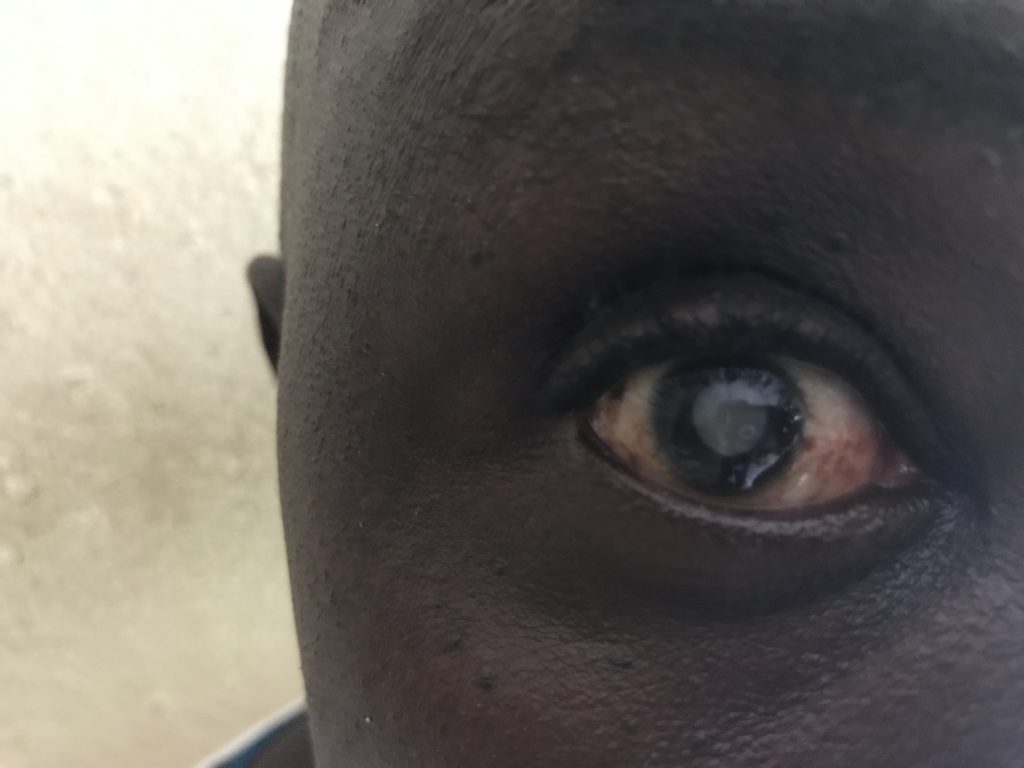 Then one more white cataract!
All surgery went without any complication. A very busy start to the day. It is lunchtime now, we all join in the conference room to eat lunch. I forget to mention that we were eating at the hotel the first night. After Day 1 of work, the word spread that there are doctors coming from the US giving care for free, a church group decided to cook for us. one of the church members has a catering service, so they cook the food and bring food to the hospital to feed us every day! They bring utensils and plates and even hot water for coffee and tea. It is so nice of them and the food is excellent. We get to sample real local Liberian food every day.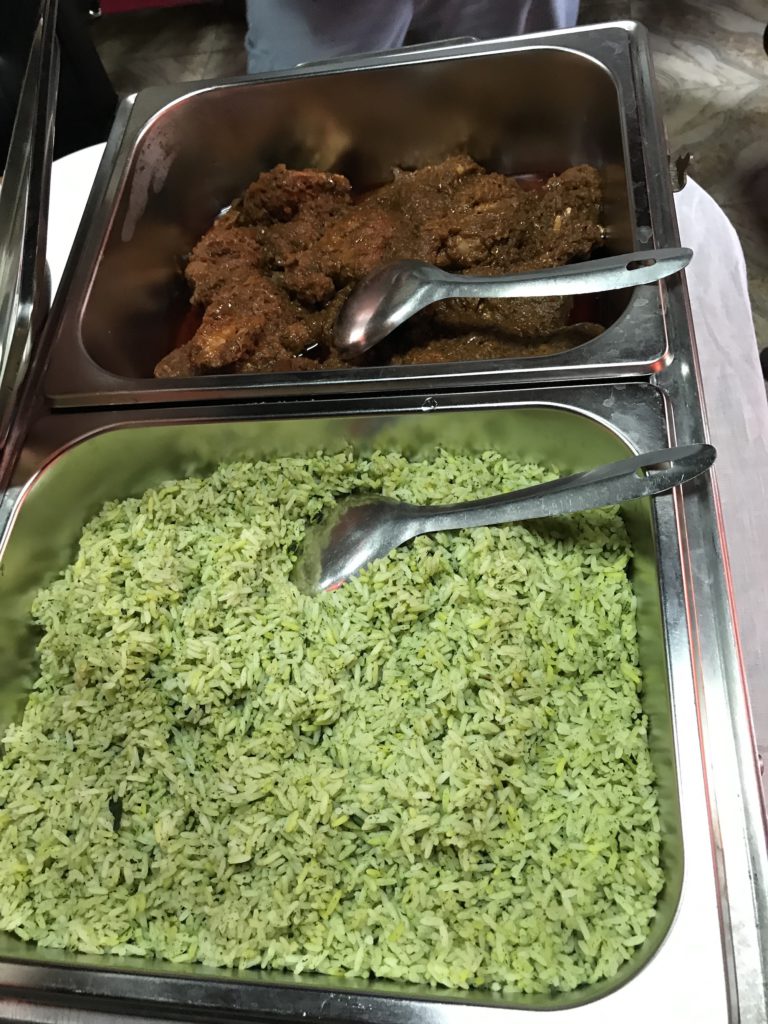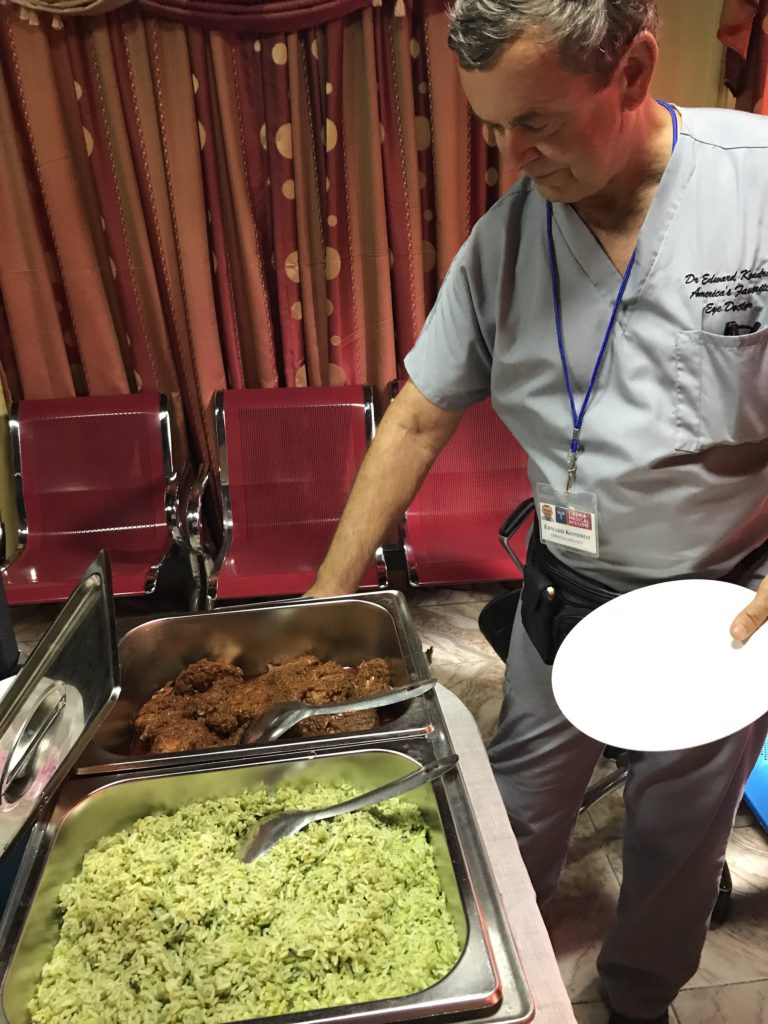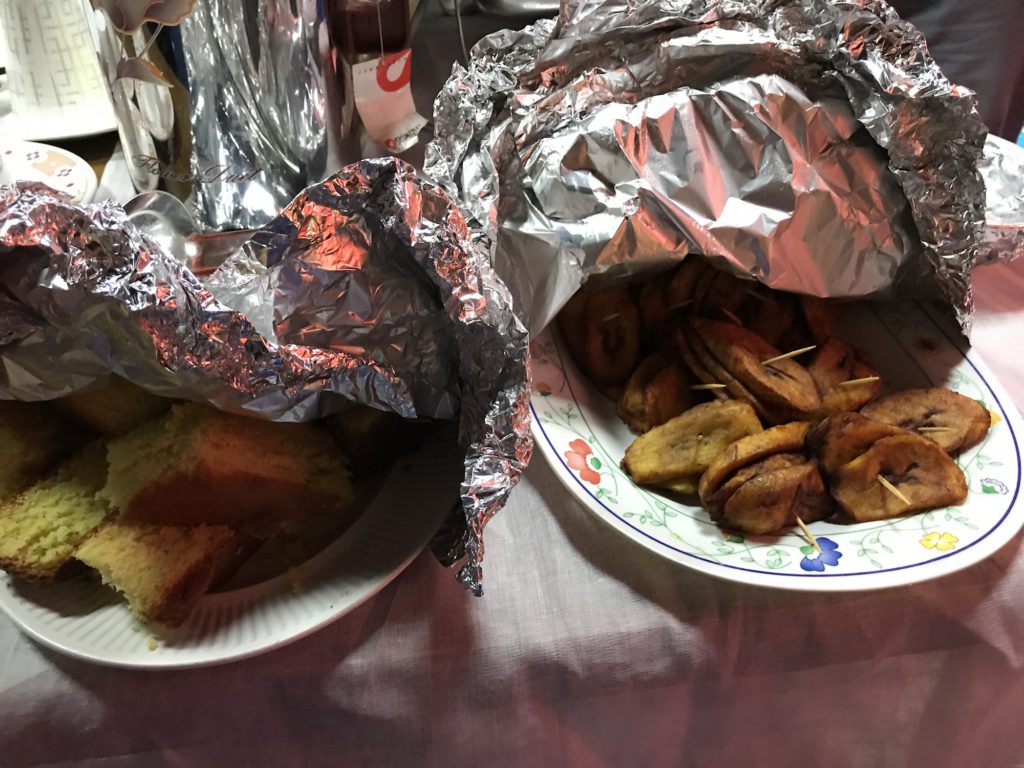 I just remember this morning as we sat in the hotel lobby waiting for the car to come, a lady brought in a plate of food for us. She wanted to feed us breakfast. How nice and wonderful. Thank you back to you beautiful lady!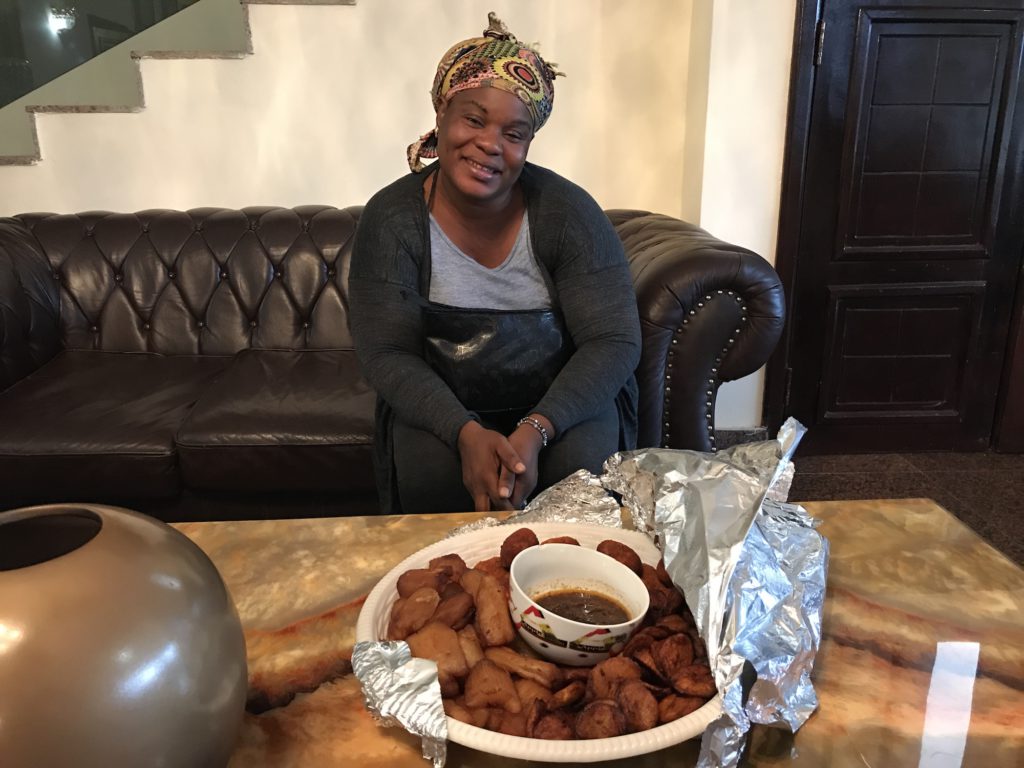 We resume the work day, a lot more surgery to be done as this is our last day.  We try to do as much as we can before we leave.
The line of patients waiting is endless. So much more work to do and so little time!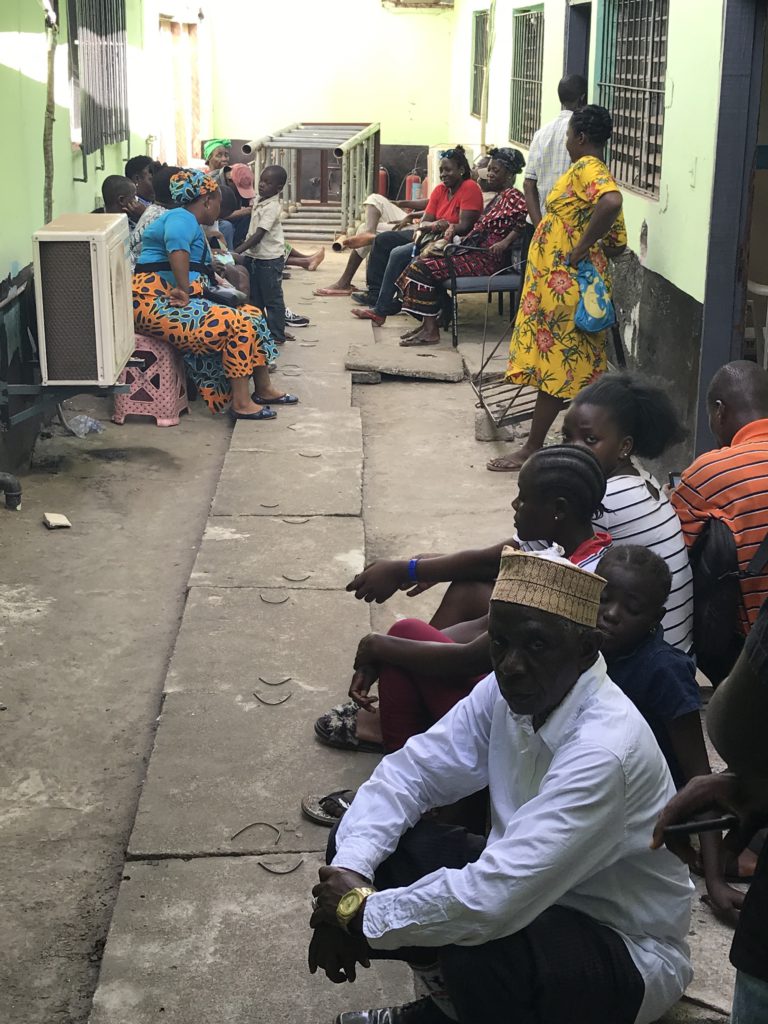 We speed up surgery by blocking patients while the surgery room is being clean and equipment being sterilized. No time to lose now. Got to move faster. And the race against the generator is on.
And we go in the next surgery when midway through the surgery, the generator shuts off. We lost the race! The microscope lost power. Ed has to wait while all the nurses scramble to plug the scope into the outlet for the backup generator. It is complete insanity! Chaos in the dark operating room!
Surgery finished! Happy patient and doctor breath a sigh of relief!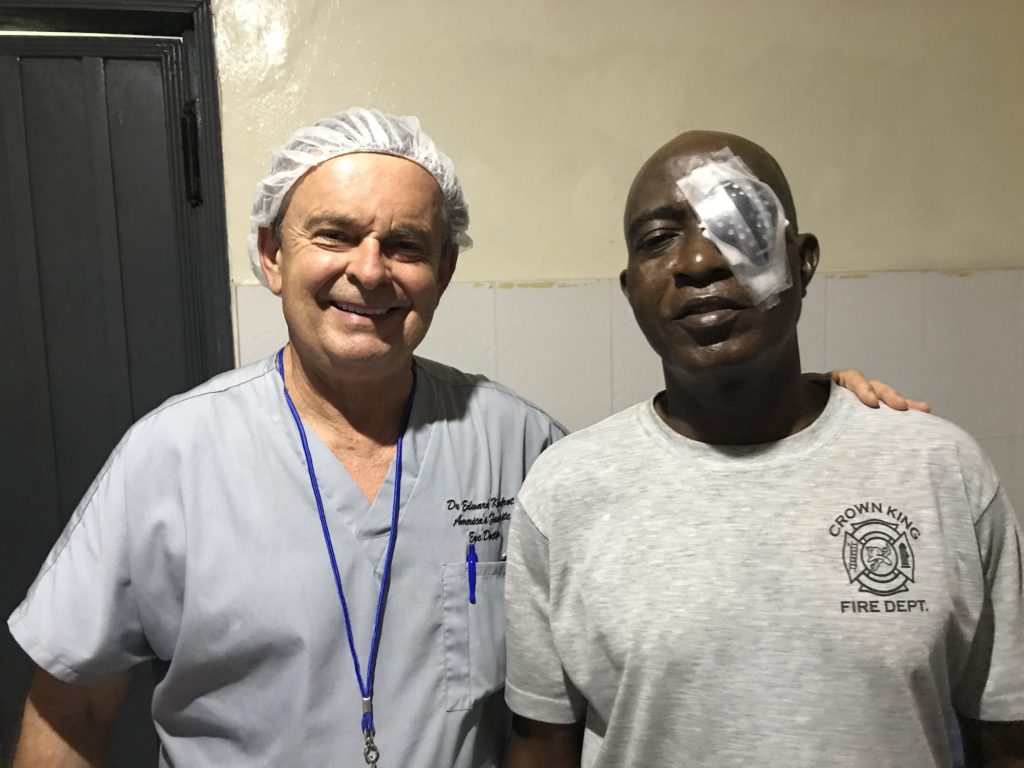 And one more happy patient!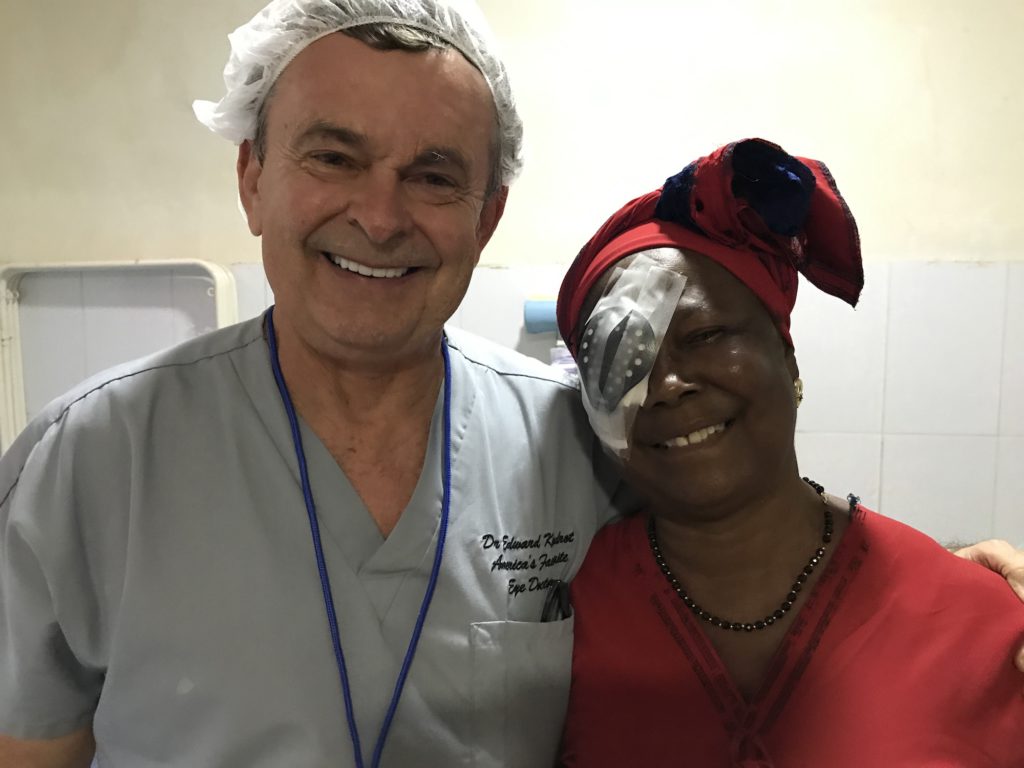 One more happy patient, a grandmother, her daughter and her granddaughter together with the doctor. Ed's new found best friends!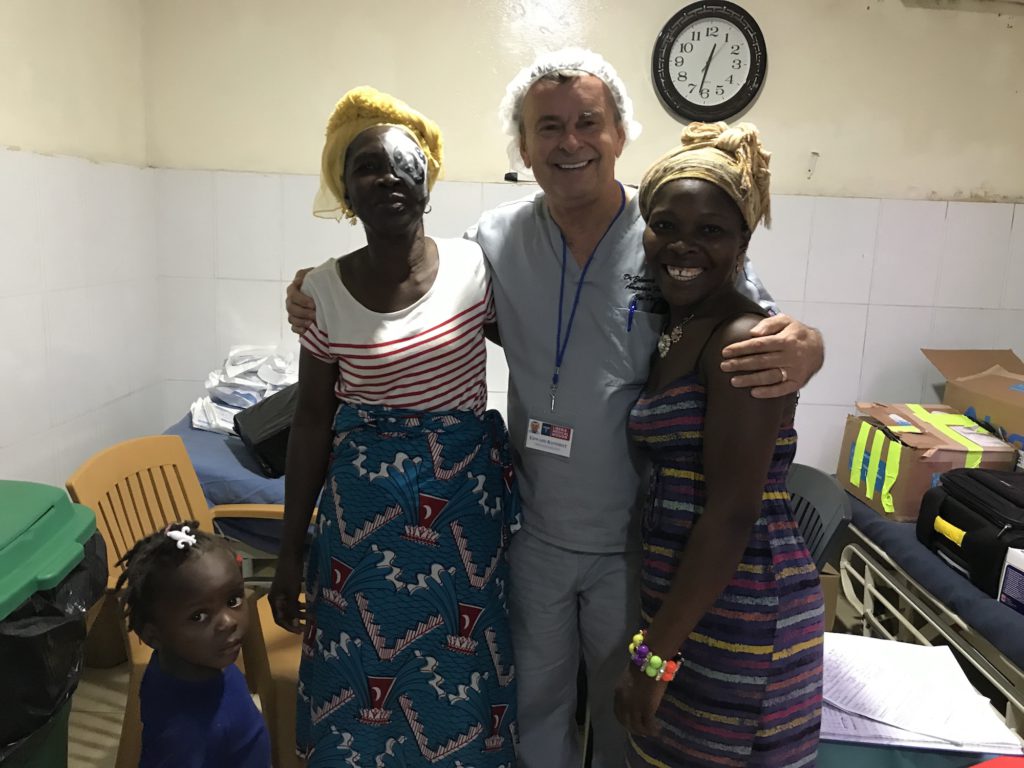 . The race to the finish line before we pull out of Monrovia!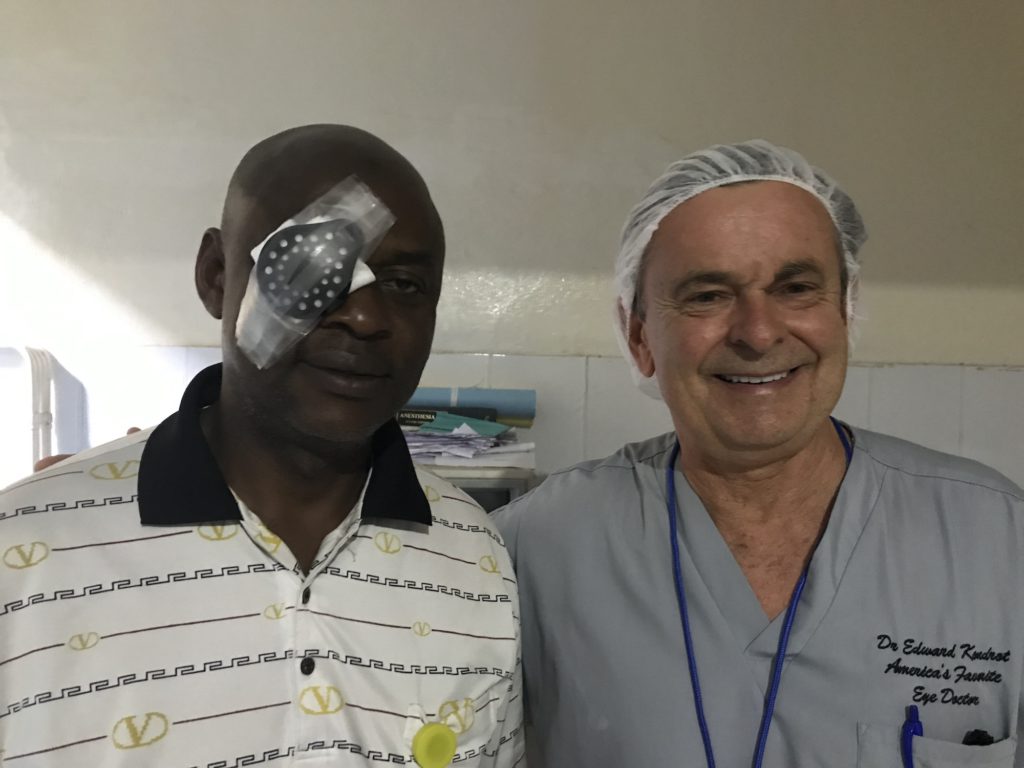 Some more tough cases to check out today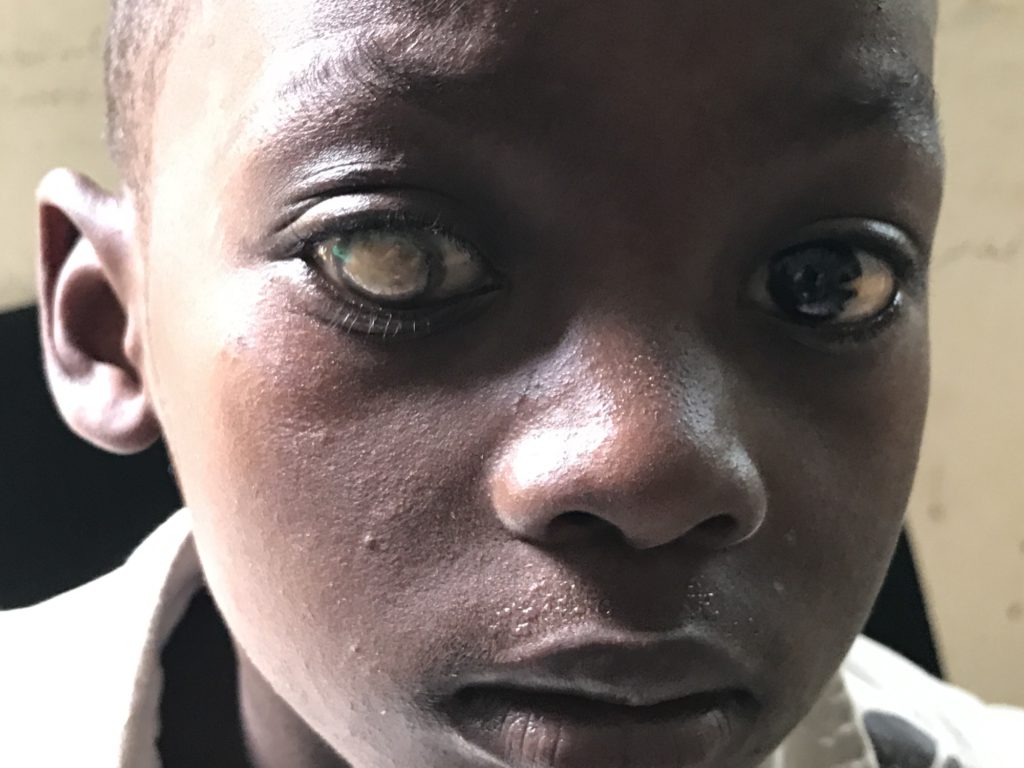 Even a case of necrotic cornea and iris prolapsed.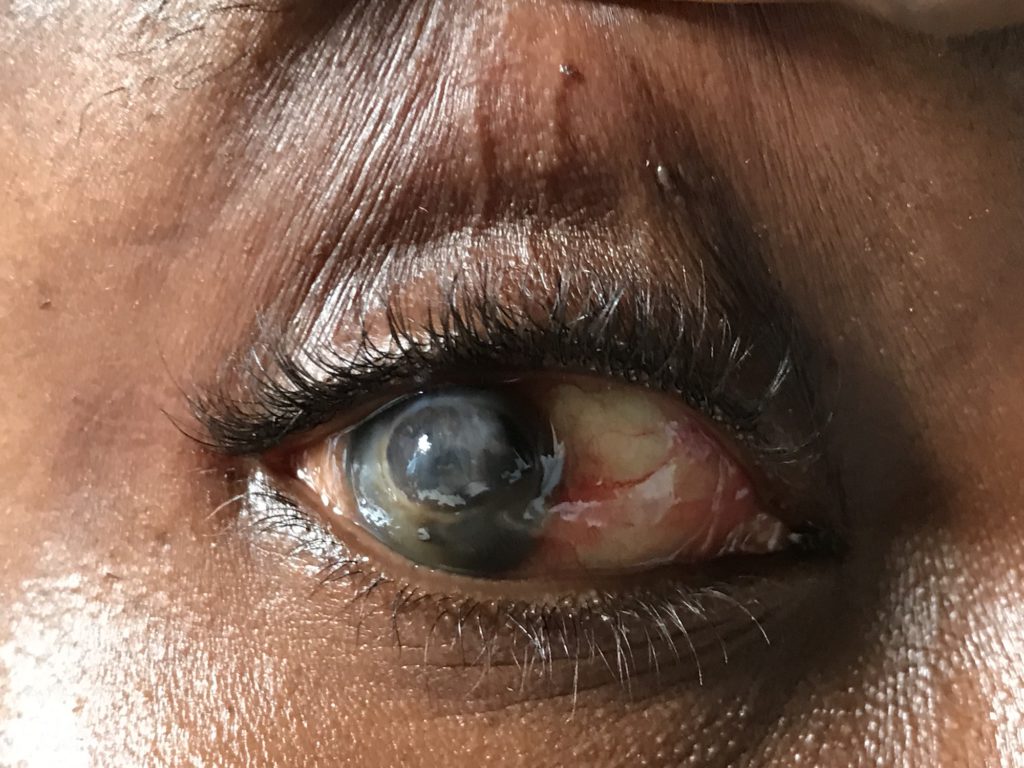 And the last patient of the day, he is totally blind and has to use a cane and also his daughter to guide him. He wants to buy us beer. He told me he has a boat and catches fish. He wants to cook a big fish plate to feed us. 
As he sits and waits in the waiting room, he keeps offering me to let him buy the doctor a beer.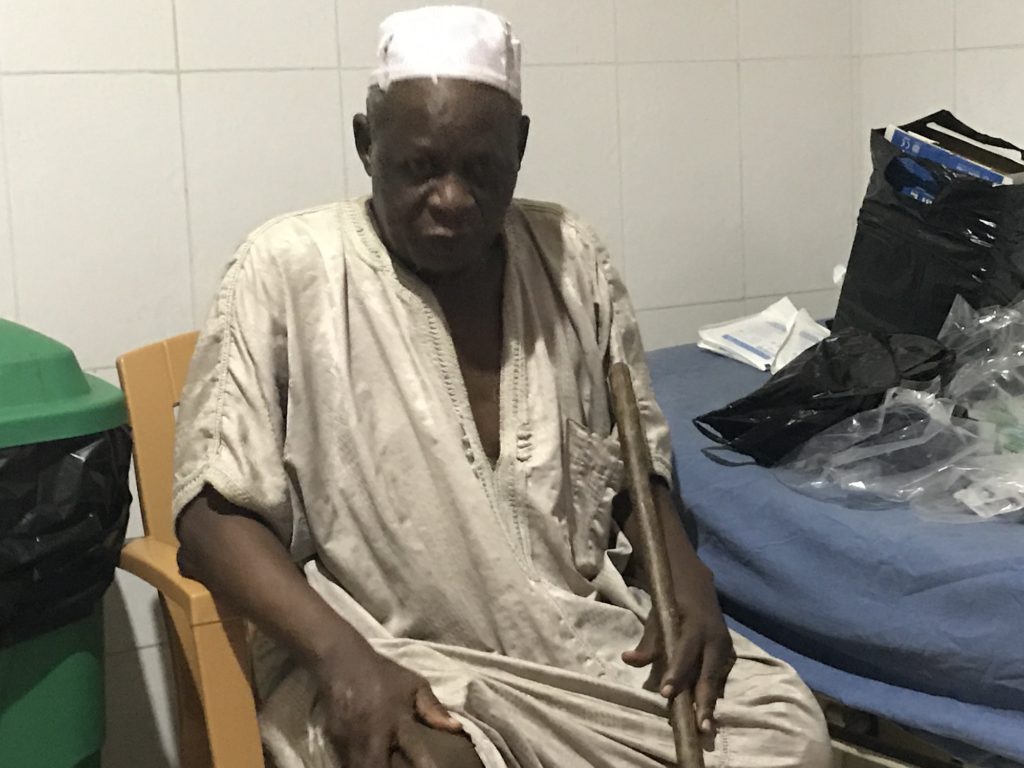 And look at the big smile when surgery is over!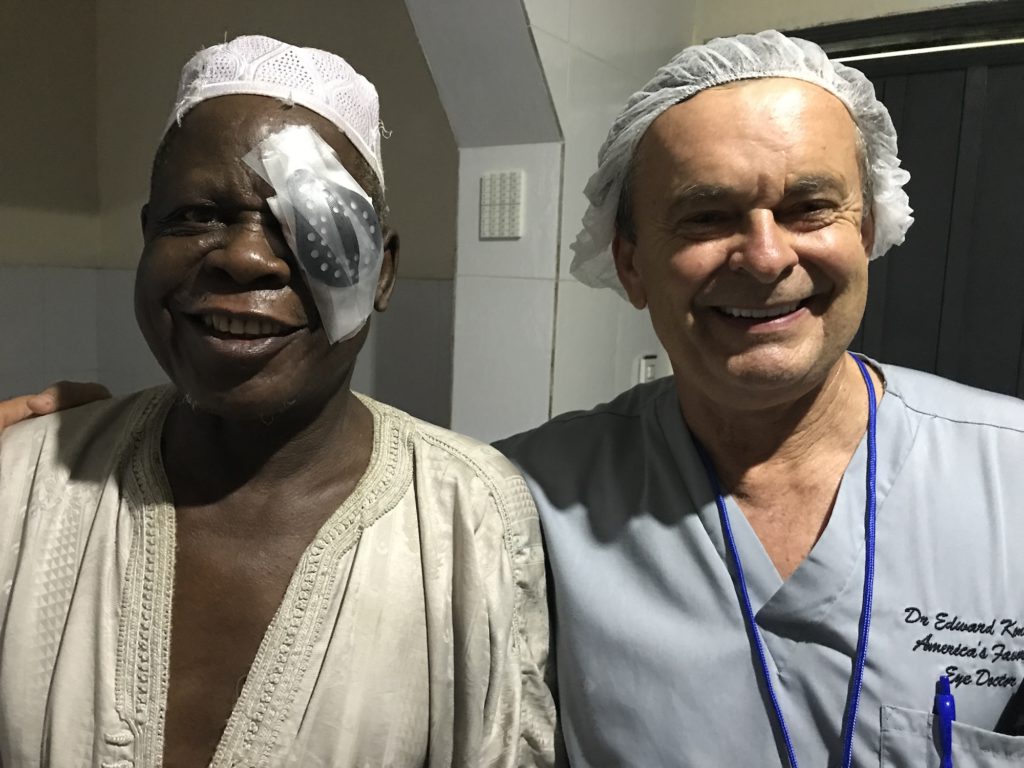 Back to the hotel late again. We need to pack up as we are going to the airport soon.
We are given a box of rice and some home cooked food.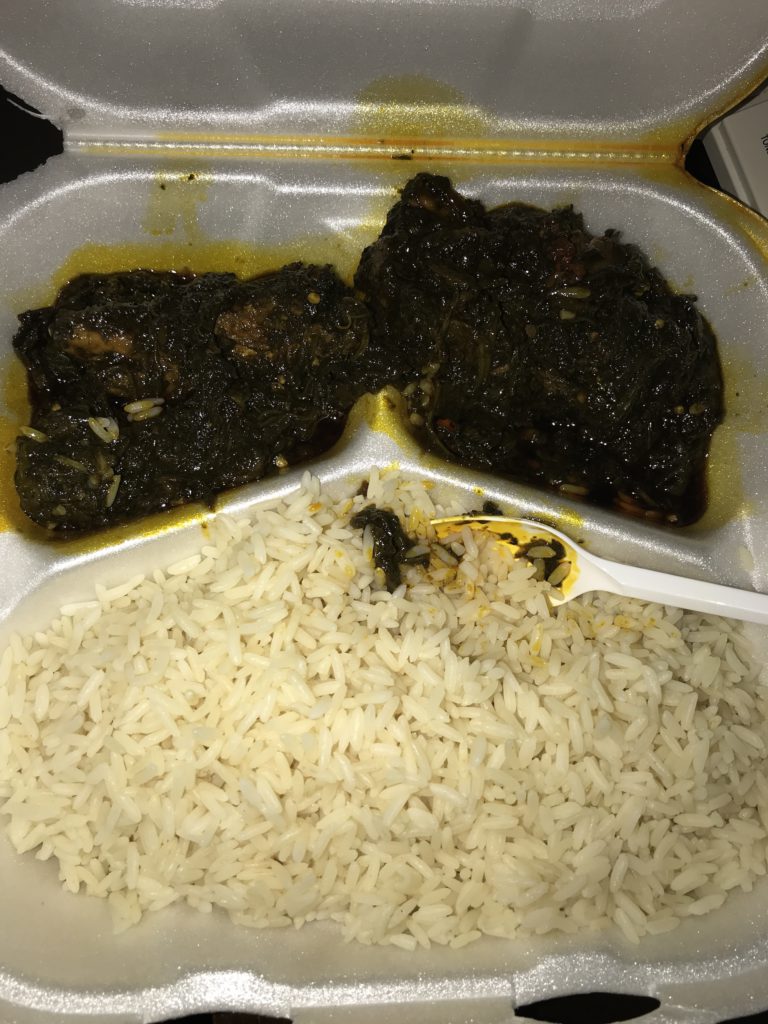 A quick shower before heading to the airport. Right after the shower, I could not find Ed! Where is he? Ah, here he is!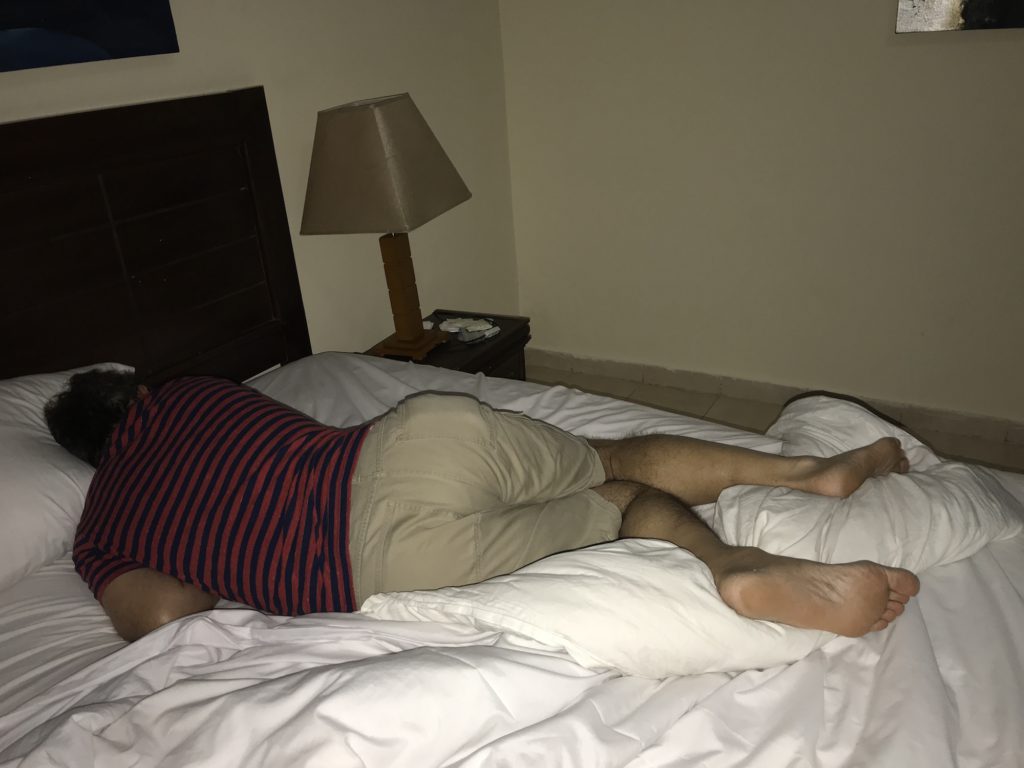 Exhausted is perhaps an understatement! The good doctor is out like a log. A short nap before the drive out to the airport. Our flight out is in the middle of the night leaving for Casablanca then onward to London.
I forgot to mention, our next trip is planned for India but there short noticed request for Ed to help out in Mexico. Can he go? Of course. We will squeeze in a trip to Mexico before India.
In the lobby, we take the last few minutes pictures with our super caring coordinator who took such good care of us. Logistics was absolutely flawless. Joe Sackor is the best! He works tirelessly to take care of the team. I am convinced he does not sleep. He is up all the time any time of the day. He is always around and makes sure our equipment is loaded and unloaded and all our every need is met.
And of course our witty, smart and beautiful optometrist, Dr. Major, who is now my new BFF, she works tirelessly and keeps everybody together working as a team. Dr. Major, you are the best!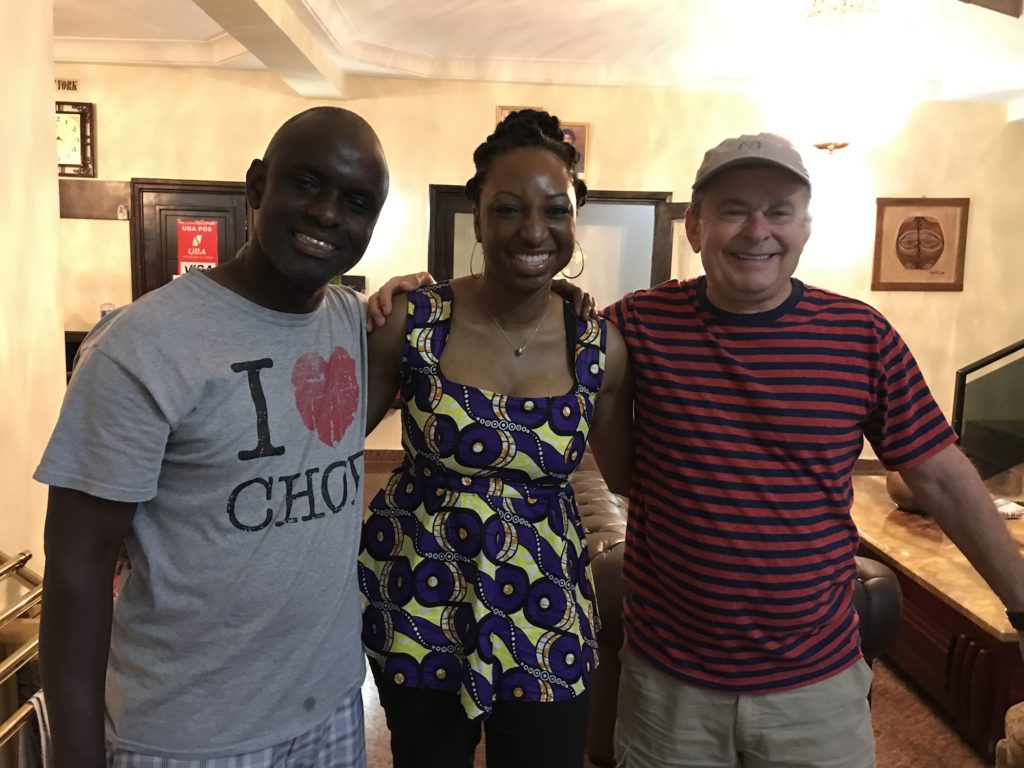 We load up the car and head out to the airport. Uncle Joe insists on accompanying us. He wants to make sure we are on our way safe and without any problem.
And here is uncle Joe on the way to the airport.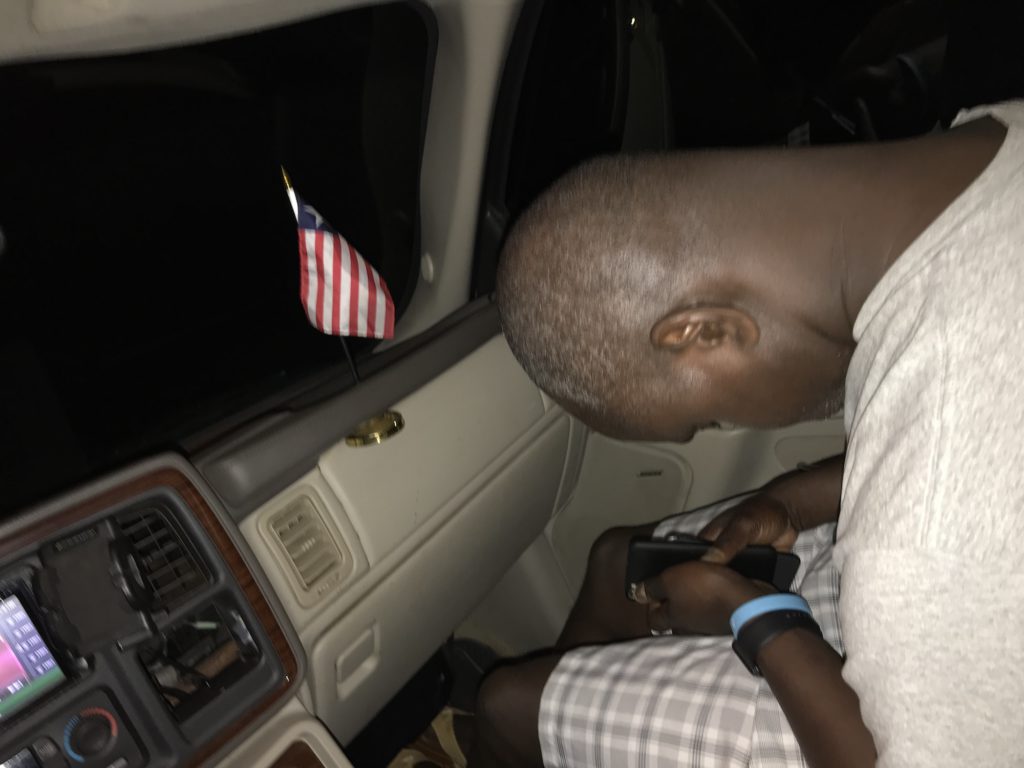 Such a dedicated man. He is so caring and so attentive to every body's needs. I put this picture here to show that uncle Joe does sleep, although it is just a short five minutes snooze here and there.
Finally at the airport for departure as the drive at night is always challenging. There is no street light, no stop sign, just a dark road and from times to time we come head to head with a truck with only one light working. So when you drive at night and you see only one light, never assume it's scooter or motorcycle. You are seeing only one half of a big truck coming at you.
Here is Ed in the waiting area at the Monrovia airport.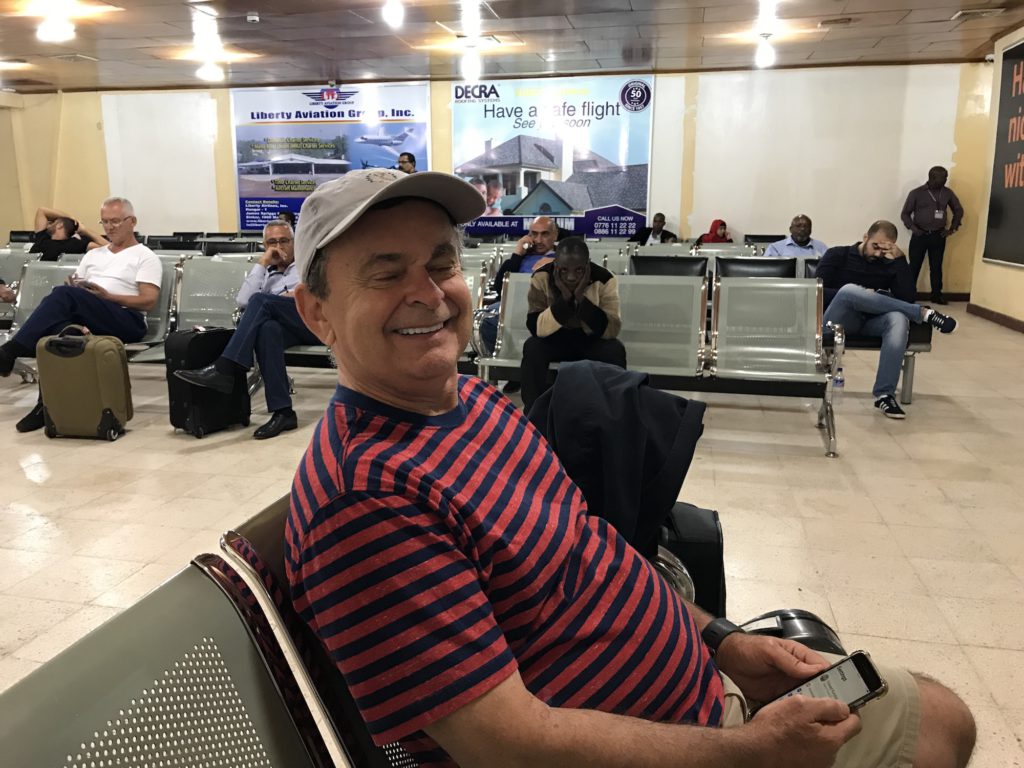 Time to say Goodbye. But not for long. As we are due to come back May 20, 2018. There are many cases that require some more specialized equipment and corneal tissue in order to get the results that Ed desires.
What a trip. What a country. And what beautiful people.
As for me, I am boarding my flight home but I left my heart in Liberia!
Give us your email address below and we will keep you updated on all new posts!