Arriving at the clinic in Haiti, Dr. Kondot gets set to work immediately. We were not planning to work today, we just wanted to unpack the supplies, set up the operating room, check out the microscope and see how the sterilization station operates. But as soon as we enter the main area of the clinic, patients are waiting to be looked at. So we get down to business and start patients examination on the spot.
One patient after another, Dr. Kondrot begins one day early I guess. We are already on the ground, we might as well work!
We have a patient whose eye pressure is 60! The clinic staff is hoping dr. Kondrot can do something for her.
Looks like we have to lower her pressure right away!
She gets her treatment immediately in the next room and Dr.is assisted by Russ.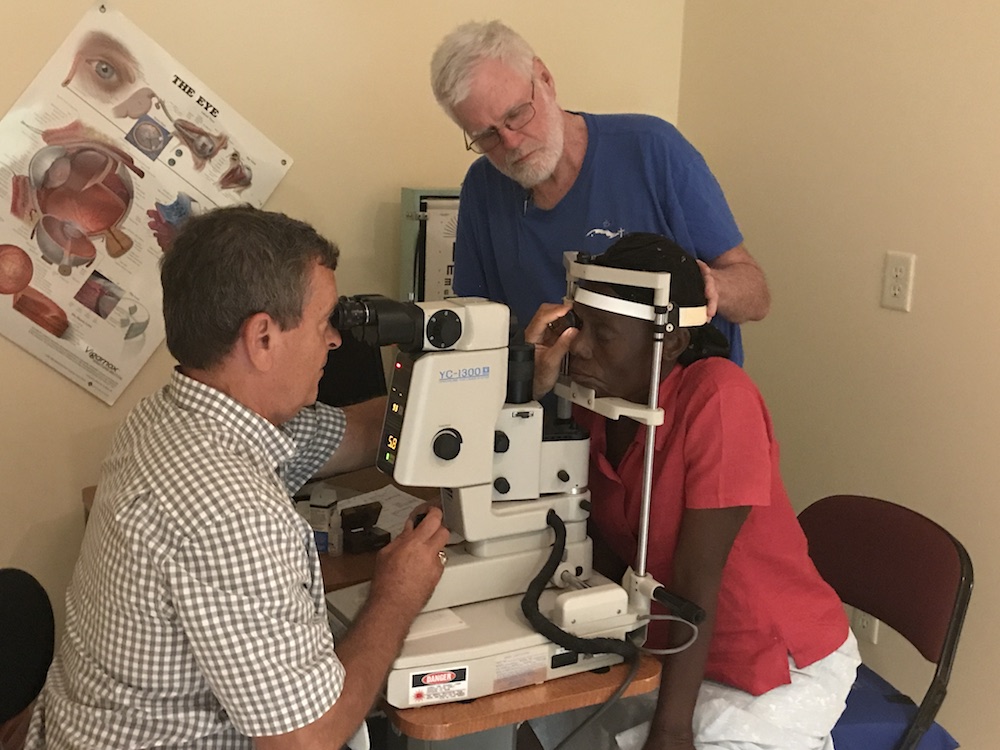 The good news to report is, the next day she came back, her pressure is 15! Yeah! The patient is very happy and grateful. She thanks us profusely. The clinic staff is amazed. They sure like Dr. Kondrot!
Next, we have a young kid. He has an optic nerve problem. He is examined thoroughly immediately.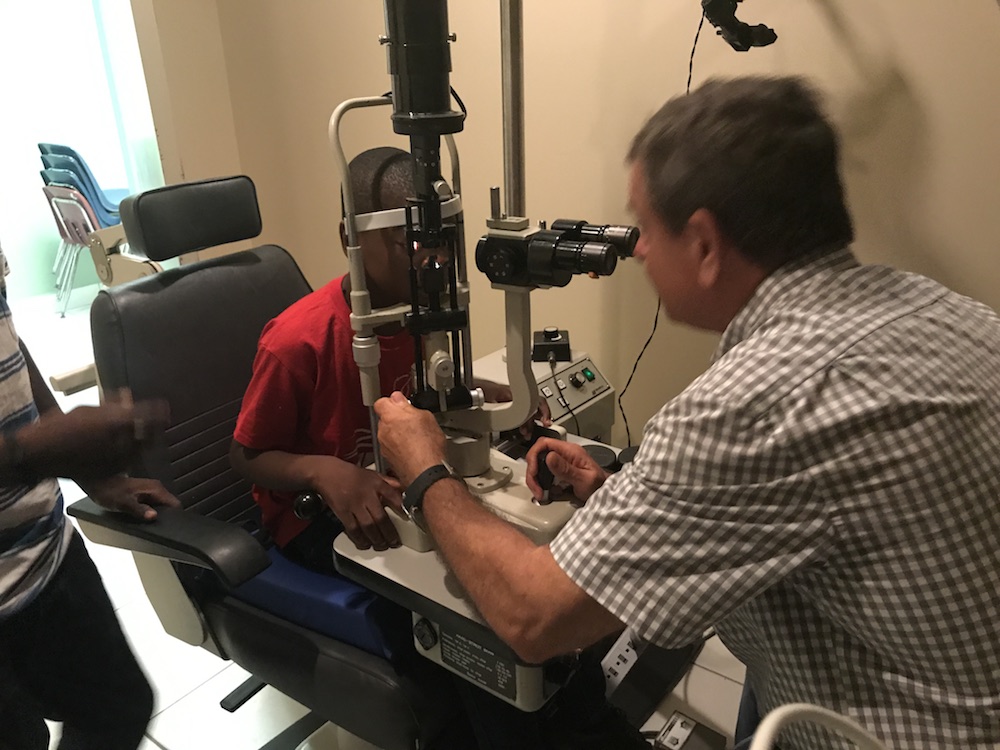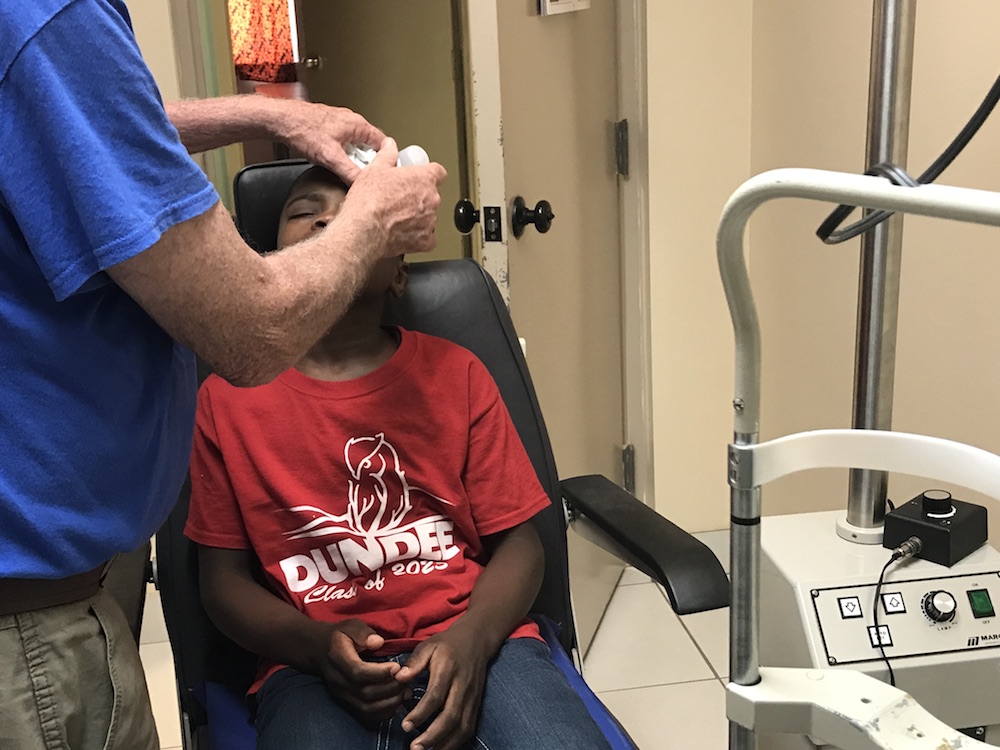 I don't think he likes the dilation drops too much but he is very compliant. He sits and waits patiently.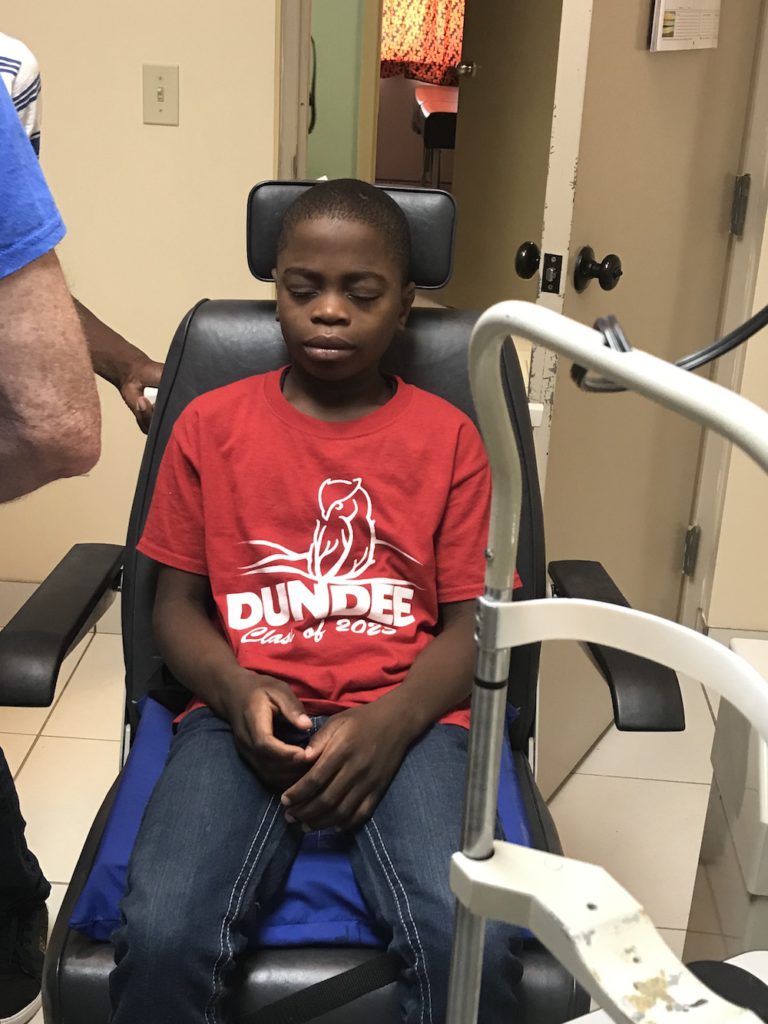 Meanwhile, we have more patients to check on as they have been waiting for our arrival.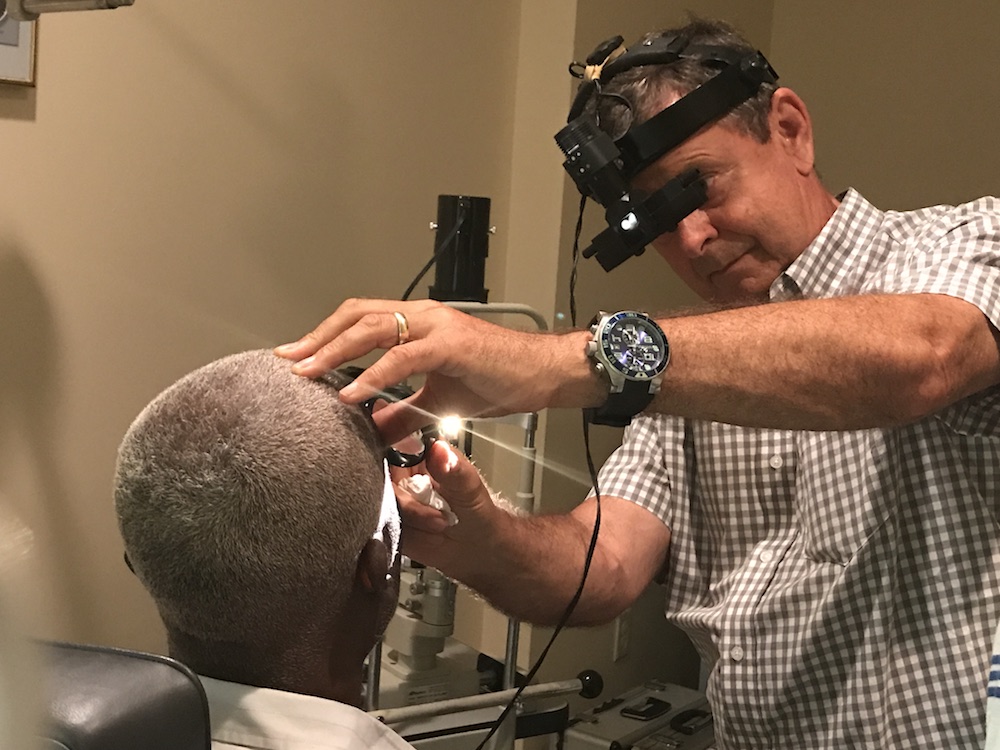 This patient has a cataract surgery done last month with complication and he has been suffering from pain and headaches. He went to the retina specialist in town who gave him some drops and they are not helping. He has so much pain and headache. Dr. Kondrot will have to operate on him first thing in the morning to help him with his problem.
After we take care of all the urgent cases we have a tour of the clinic and set up the surgical room ready for work tomorrow morning.
First and foremost, the all-important microscope.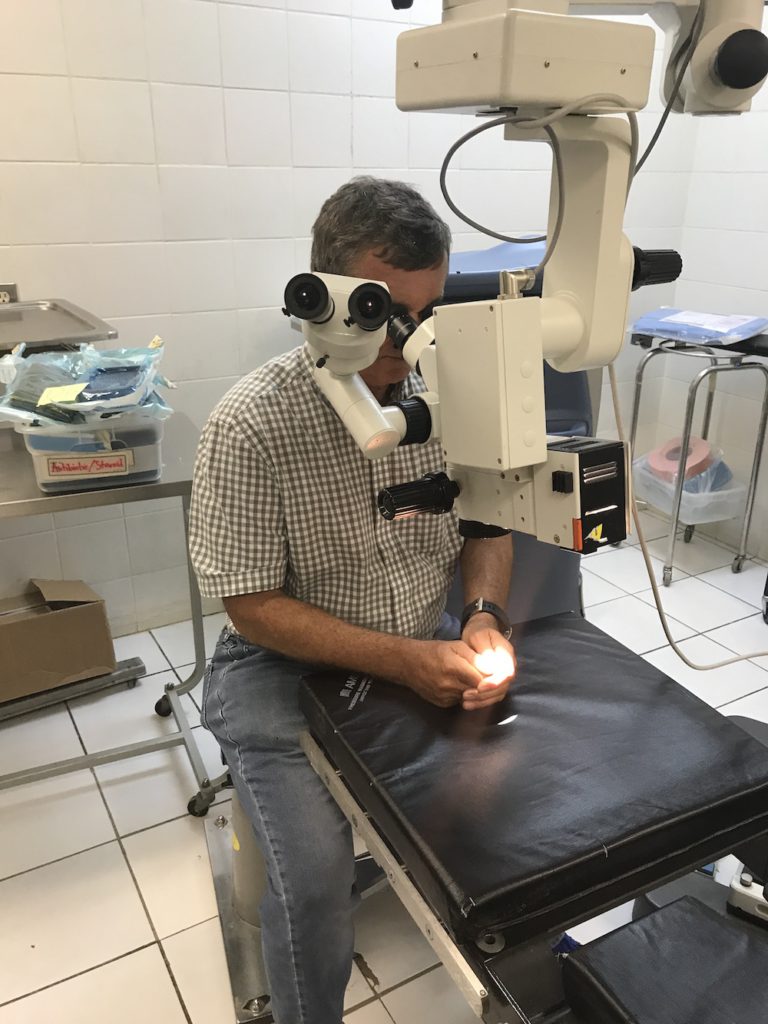 The workspace is clean and well equipped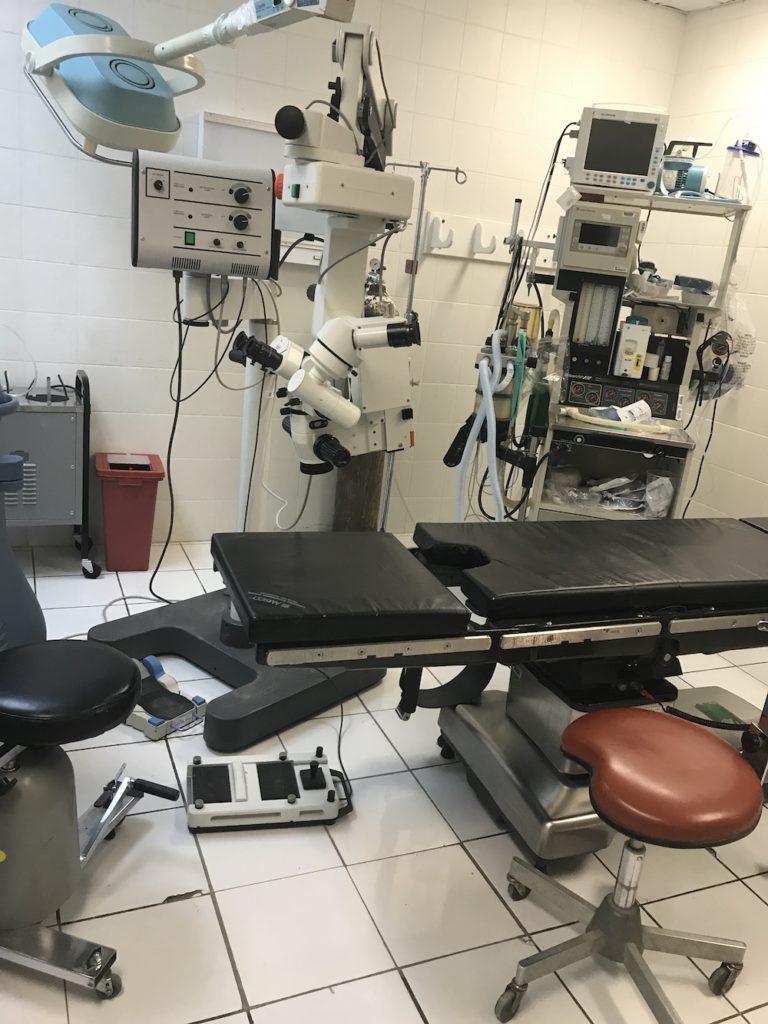 We now can take a rest. Get some food for dinner and catch some sleep. Full speed ahead for a long work day tomorrow morning.
The clinic has the sleeping rooms upstairs with a nice kitchen and we head up for some home cooked food. It looks like it's Italian night tonight. I see spaghetti and Ragu pasta sauce.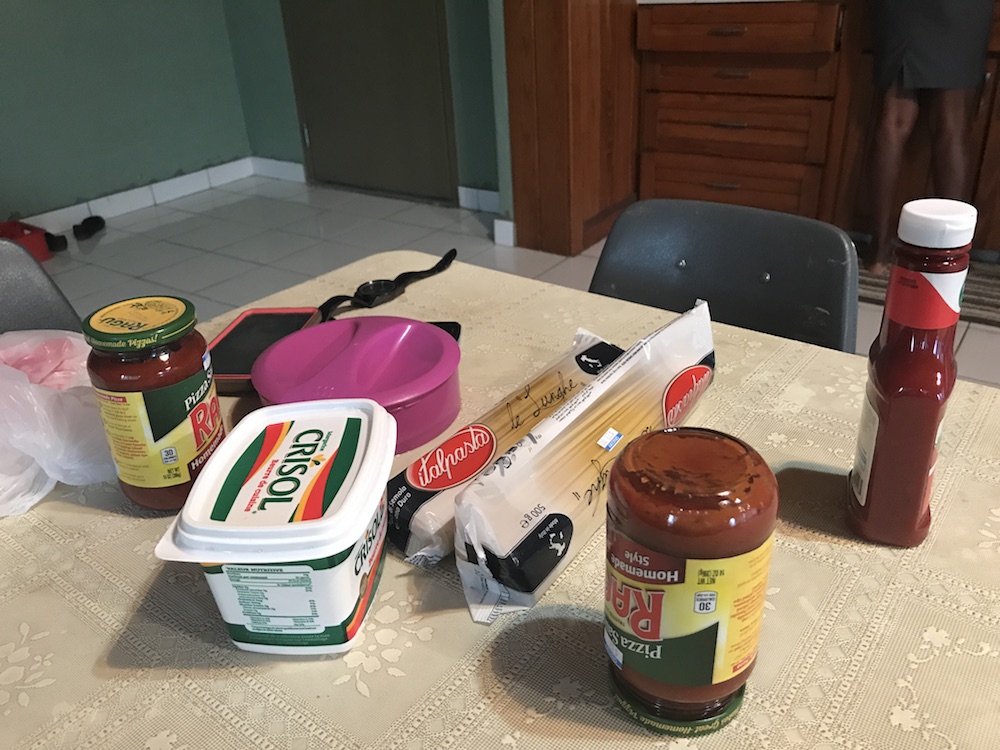 And here is our pasta dinner plate. As you can see it is pasta with meat sauce and a boiled egg. We don't ask any question, we eat what we are given. So don't ask us why it is served that way. It is delicious!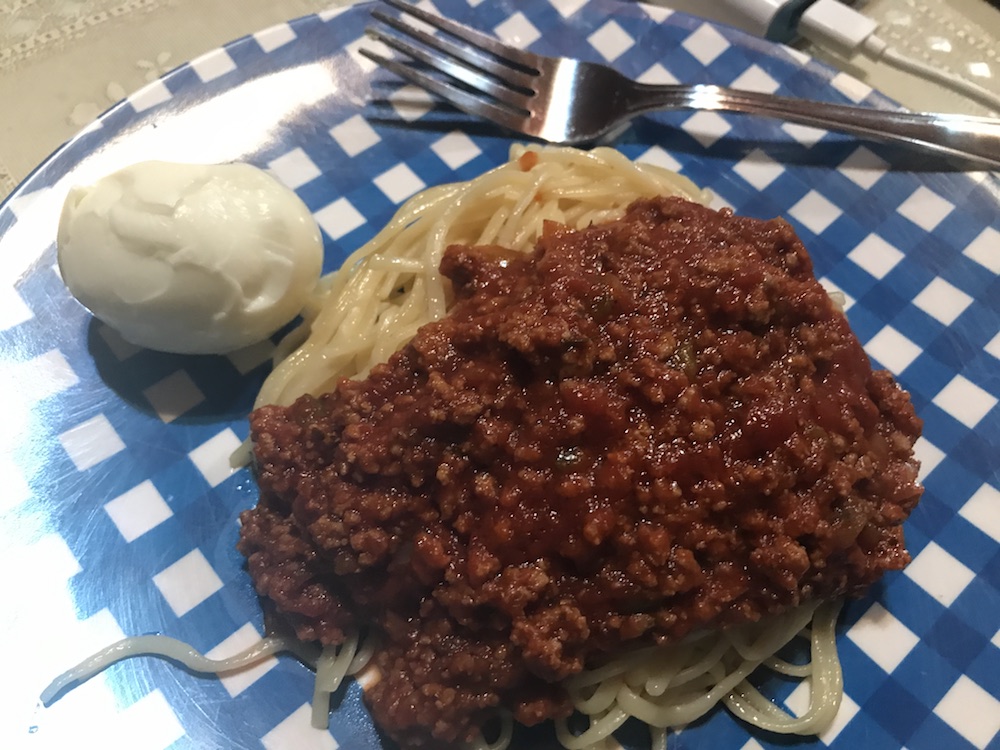 The hungry warrior enjoying his favorite kind of food: Italian dinner.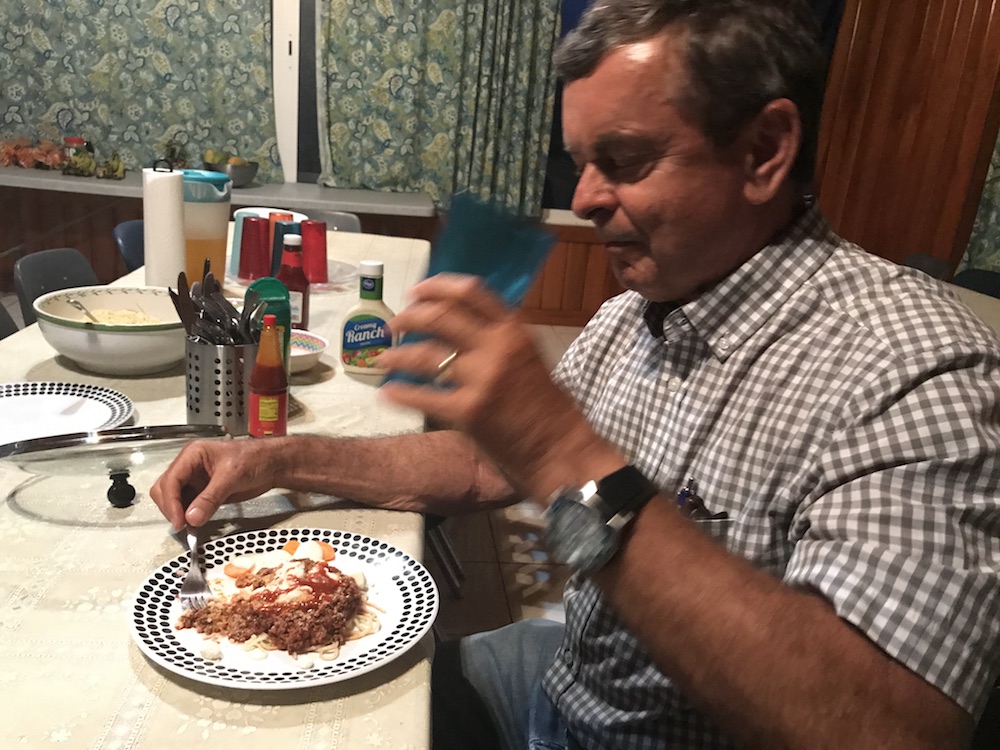 And for dessert, we have fresh fruits.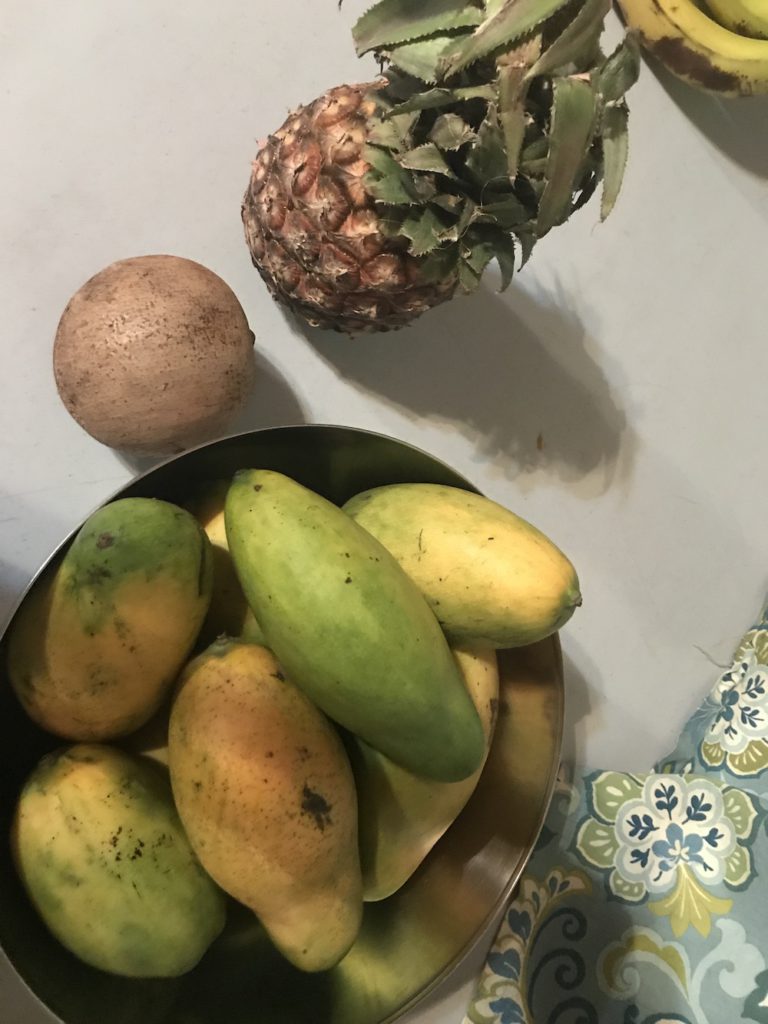 The food is delicious and we are happy and ready to settle in for the night. Life in these parts of the country is very simple. Work, eat, sleep, repeat. It is not like we have any nightlife, any places to go, dancing, dinner, and show! We are lucky we have a working generator so we have some light to power to charge our cell phones. The village nearby has been without power for sixteen days in a row now. No power means no well pump, there for no fresh water. For sixteen days? I can't imagine. Don't go there with me. It's off limits for me. That would be a real challenge. Sixteen days of no running water, no flushing toilet, no shower, no shampoo, I don't want to even think about it.
As for us, it is now 9:20 PM. The generator is going to shut down at 9:30 PM so we have to rush back to our room to brush our teeth and get ready for bed. Once that generator shuts down, we have no pump and therefore no water! I am not kidding you, no water means no flushing our toilet, only for the night, but still, we need to "schedule" or plan ahead for our "number one" and "number two" smartly to be "polite" to our spouse. So we took a minute in bed and talk to our body as though it is going to listen to us. We are telling it gently to "hold off" any major "activities" until the morning when the generator is on again and the water will be running again.  We cross our fingers and hope our body listen to us. All we can do is hope.
The generator shuts down at 9:30 PM as scheduled. The air conditioning is shut off. Light is out. No water. A double bed with a crack in between the two twin mattresses. We both fall into a deep sleep disturbed by nothing but our own rhythmic deep breathing.
I know some of you will be curious and ask if our bodies did indeed listen to our instruction and "hold off" any major activities in the night. The answer is, of course not, nature calls whenever it feels like. It does not wait until the generator comes on. But we survive. We learn to live with it. It is a small inconvenience comparing to what we see around us so we carry on with a smile.
Give us your email address below and we will keep you updated on all new posts!